Dundee first-aider backs calls for universal training after helping save man's life
By
Jake Keith
July 24 2020, 8.44am
Updated: July 24 2020, 9.51am
A first aid trainer has spoken of the moment he helped save the life of a suspected overdose victim outside his Dundee flat.
Sean Duffy, who runs First Stop Safety Training with his wife Robyn, stumbled across the barely responsive man in the Cowgate.
The 31-year-old was walking from his flat on King Street on Friday when he realised the man, who had been accompanied by two women, needed urgent medical attention.
His breathing was very weak and abnormal so Sean swiftly began chest compressions in a bid to restore circulation.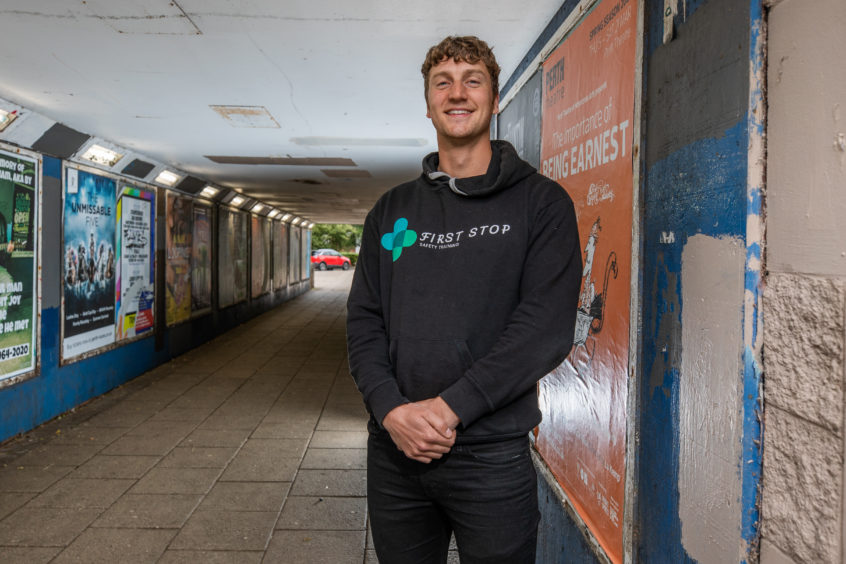 Sean, who is originally from Portobello in Edinburgh, said he went into "auto-pilot" adding it was "pure luck" he had been leaving his home at the exact time he was needed.
He said: "I think it was at least five minutes I was performing CPR but time is so difficult to judge in a situation like that.
"He was in the recovery position but his chest was not moving up so I knew he needed CPR.
"I was really surprised to learn he survived because he was in a bad way.
"I was going golfing but my tee-off time had been delayed. I actually just decided to leave at the same time anyway so it was pure luck I was there."
Other passers-by had tried to help the man, in his mid-thirties, with one calling an ambulance, which arrived around 20 minutes later.
Sean was unable to give mouth-to-mouth due to the risk of Covid-19 but despite becoming tired, managed to continue until the Scottish Ambulance Service arrived.
Paramedics then asked those nearby to leave the scene around the underpass, meaning Sean only found out a few days later the man had survived.
It is the third time he has encountered someone lying in the street in need of help in just a year and a half of living in Dundee.
He said the incident shows just how crucial it can be to have life-saving skills.
"I always say to those I teach that it's better to do something than nothing and they'll be surprised at what they can remember from their training.
"The adrenaline kicks in and you focus on potentially saving someone's life.
"This kind of training should start from school age. If we can start them early, soon enough we will have first-aiders walking the streets everywhere."
It comes after The Courier launched its First Aid Kids campaign, calling for first aid training as a mandatory part of the Curriculum for Excellence.