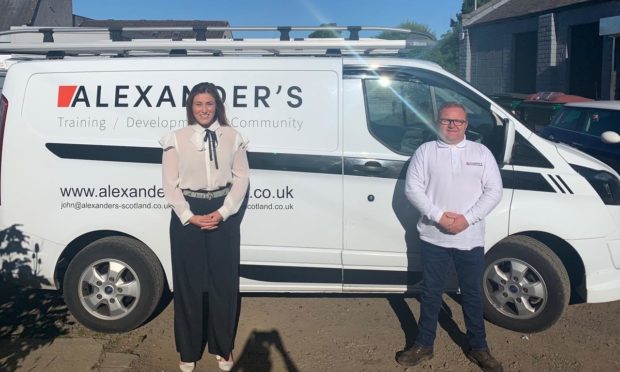 The founder of one of Dundee's largest painter and decorator firms has launched a charity to help local people.
John Alexander, who started Alexander Decorators around 20 years ago, said he wanted to use the skills he developed setting up and growing his own business to support others.
He set up the Fairfield Street business on his own and it now employs around 40 staff.
The Alexander Community Development scheme will distribute food to the needy, introduce young people to trades and encourage older workers to pass on their skills to a new generation.
Mr Alexander said: "Helping people is a passion of mine. It's what motivates everything I do. Having a trade has given me a career far beyond what I could have imagined and has now allowed me to give something back to the local community.
"By playing a part in upskilling future tradesmen and woman, we are ensuring that the workforce of tomorrow is equipped to deal with future challenges."
The Alexander Community Development group will have three main strands to its work.
Its Transition to Trade programme will provide young people with opportunities to learn trades in a safe environment through a six-week out of school placement.
Its food distribution group will work with food banks and charities by taking delivery, organising and distributing food and key items to some of Dundee's most vulnerable residents.
Its Trades for All project will offer opportunities for retired tradesmen and women to share their skills with young people.
Charity staff have already been working to distribute food to vulnerable city groups during the Covid-19 crisis,
Manager Kara Swankie said: "When I first met John, his passion was infectious, and I knew this was something that I needed to be part of.
"Alexander Community Development has the opportunity to make a difference to so many lives in Dundee but more importantly, support those out there who have been making a difference for years."
Staff involved in the Transition to Trade project will work with Dundee schools to launch its first cohort in October.
The charity is looking for retired tradesmen and women to get involved in its Trades for All work.
The charity team aim to build  "a self-sustaining green site" at Fairfield Street, which will house the charit and allow it to significantly increase capacity for services and offer affordable space to other similar organisations.