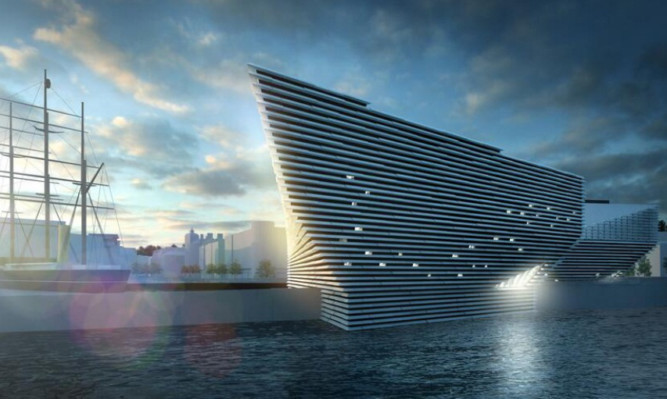 Dundee V&A workers could have worse pay and pension terms than the rest of Scotland's museum staff forced upon them, The Courier can reveal.
Trade unions have vowed to "battle to stop a two-tier workforce" after it emerged an arm's length organisation, not the civil service, will be the employers at the design centre.
That mirrors a controversial decision taken by the V&A in London, where the PCS is arguing pension contributions, redundancy and maternity rights are all being slashed.
The union's Scottish national officer, Lynn Henderson, said: "We have just fought a battle to stop a two-tier workforce and we won't be putting up with the same thing at the V&A Dundee."
Unions at the London museum claim a new contract is being introduced for all staff without any consultation or negotiation.
Now fears are being raised that workers in the City of Discovery will also be hit under the terms put forward by the local employers, Dundee Design Limited.
This could lead to staff being required to either make higher contributions or work longer in life than those on civil service contracts to end up with the same final pension pot.
It follows around 120 PCS members taking strike action during the Edinburgh Festival following the collapse of talks with National Museums of Scotland.
They claimed weekend pay changes had created two rates for staff which could reduce an individual's pay by between £2,000 and £3,000. The dispute has now been resolved.
Mike Arnott, secretary of Dundee Trades Union Council, said: "We were expecting that those at least employed within the V&A building itself would be civil service employees with civil service terms and conditions and pensions.
"Apparently that's possibly not going to be the case so we are very, very disappointed.
"We think that would be letting the people of Dundee down after the amount of investment which has gone into the Waterfront."
A spokeswoman for the museum said: "Staff working at V&A Dundee are employed by Design Dundee Limited. Design Dundee Limited is a limited company and registered charity which sets its own terms and conditions for employees."
Pressed by The Courier on whether or not that would mean employees are on equivalent terms to those in the civil service, as employees at National Galleries in Edinburgh are, she added: "DDL employees are not civil servants and therefore not employed on civil service terms and conditions. We have not carried out detailed comparisons with other organisations."