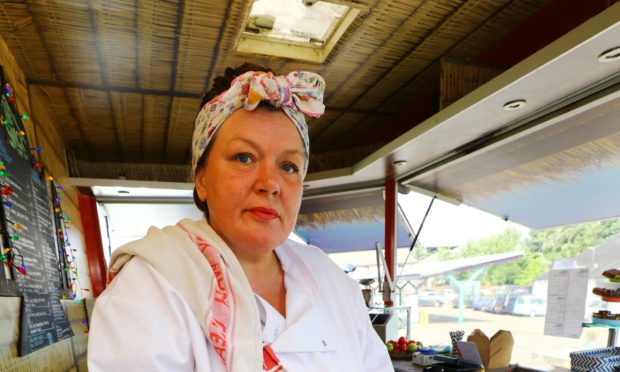 A Hilltown takeaway owner has warned local people to be alert after a man threatened her with a knife while walking her dog at night.
Gill Young, who runs The Shack Street Food on Isla Street, was left in complete shock after the incident on Tuesday evening.
A man appeared out of the darkness on Provost Road at around 10.40pm and stepped into her path, just centimetres from her face.
Moments later, two more men appeared from behind parked cars.
Ms Young, who has lived in the area for decades, said the first man claimed to have a knife, thought she couldn't see one.
"He looked desperate," she said.
"It was really scary. He was right in my face so I could see him so clearly. My dog Newton just froze.
"The man asked me if I'd seen two guys but I knew he was about to rob my phone I'd just used. I walked backwards, not taking my eyes off him.
"The next thing there was three of them so I realised I had to scream."
Ms Young, who has not yet contacted police about the incident, says the men took off and she then ran into a friend's house, nearby.
She described the men as aged between 19 and 23 and of average height.
One was wearing a dark The North Face jacket and another a distinctive coral/orange short Puffa-style jacket.
"I've lived here for 25 years and never experienced anything like that," she added.
"I'm still shaken up about it now and can't quite believe it. I couldn't sleep last night and woke up in tears.
"I've been back running the Shack and joking about it with customers but I felt so much fear. Everyone should take care, there are desperate people out there.
"I won't be walking my dog late at night again. For it to happen on my street is unbelievable and saddens me.
"I've travelled around the world on my own since I was 16 and that was the worst fear I've ever felt in my life."