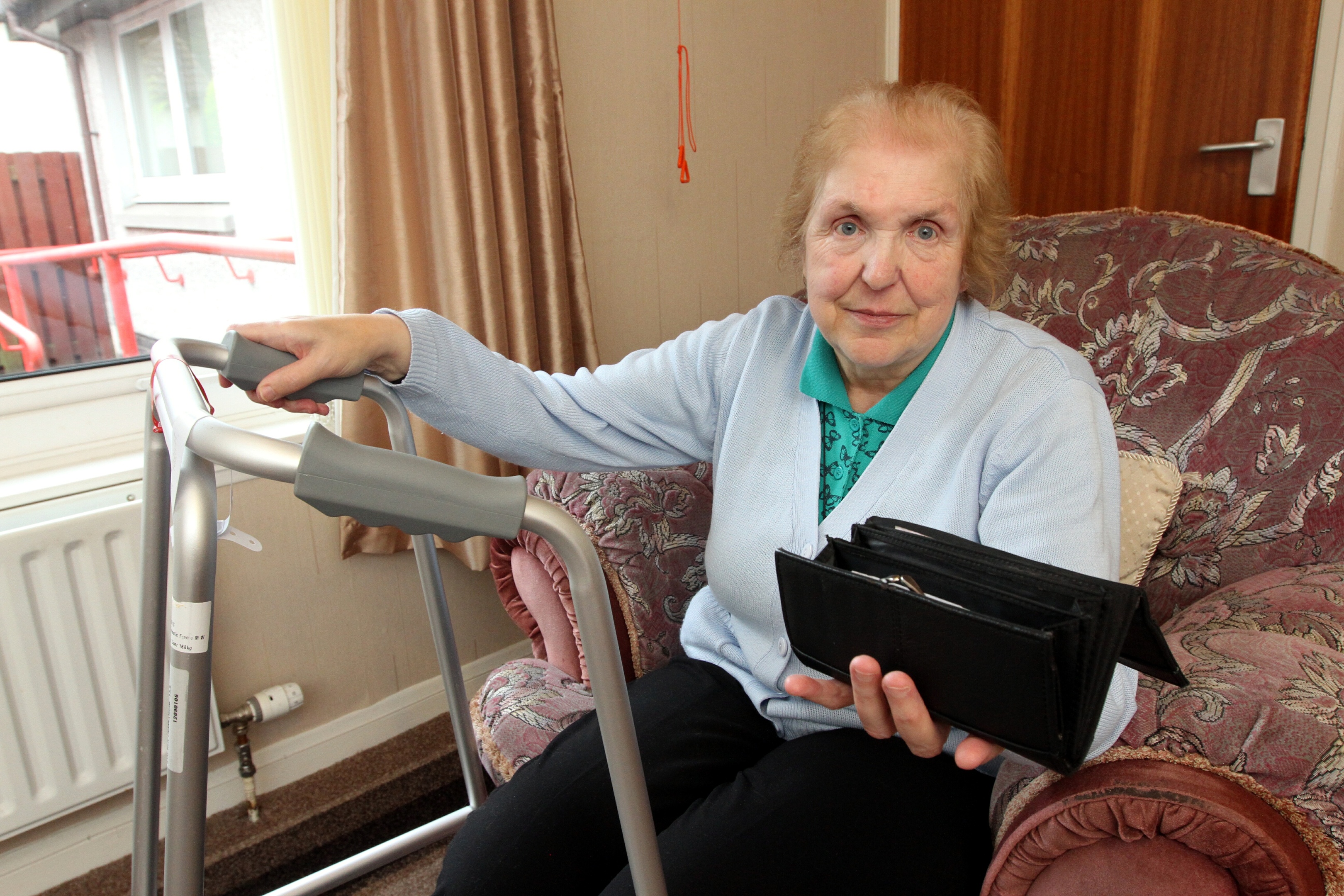 A Dundee pensioner fears returning to hospital after someone stole hundreds of pounds from her purse while she was receiving life-saving treatment in Ninewells.
Davina Parfitt, 70, was rushed to the accident and emergency department earlier this month, having suffered a mini-stroke in her Ardler home.
While she was being transferred to the acute medical unit in Ward 15, Mrs Parfitt believes someone went into her purse and took £200 from it.
Mrs Parfitt said it was the second time in under a year someone had stolen money from her. Last year a thief followed her home while she was on the bus before taking a similar sum of money from her.
The former jute worker, who raised four children in the city, said she was now "worried" and "nervous" about having to return to the scene of the alleged crime.
"When I went into Ward 15, staff checked my bag," she said.
"Before being admitted to hospital, I had gone to the cash machine to take out money to pay some bills. That's why I had such a large amount on me.
"Now my family will have to pay them.
"My carers knew my purse had money in it and that it was shut and in my handbag when it was handed over to the paramedics.
"I don't understand how someone could do that in the A&E department.
"I phoned the police after I realised the money was missing.
"Nobody should have to go through this," Mrs Parfitt continued.
"I am very lucky to be alive after my illness, and for this theft to have happened on top of that is terrible.
"You just don't expect to go to hospital and have money stolen from your purse.
"This sort of thing just should not be happening.
"I was kept in the the acute medicine unit for 10 days."
Mrs Parfitt was still reeling from a similar theft last year that left her scared to leave her house.
"I had money stolen from me at the end of last year too," she explained.
"Someone followed me off of the bus and took £190 from my bag which was money I was saving for the grandchildren's Christmas presents.
"After that, I became terrified of leaving the house.
"My family had to train me up again to teach me to feel safe leaving my house and make sure I was able to go out.
"I don't want anyone else to have to go through what I have. I want this person caught so it doesn't happen again.
"I've been told I'll need to return to Royal Victoria hospital soon for tests, which I am nervous about. I'm also worried about having to go back to A&E, in case I have something else stolen.
"Ninewells is a good hospital, but I wouldn't want anyone to have to go through what I did when they are there."
Police have confirmed they are still investigating what happened on September 5, when it is thought the money was taken.
An NHS Tayside spokesperson said: "As any such theft would be a police matter, NHS Tayside is unable to comment.
"NHS Tayside takes any incident of theft seriously reporting to Police Scotland and acting on advice given."