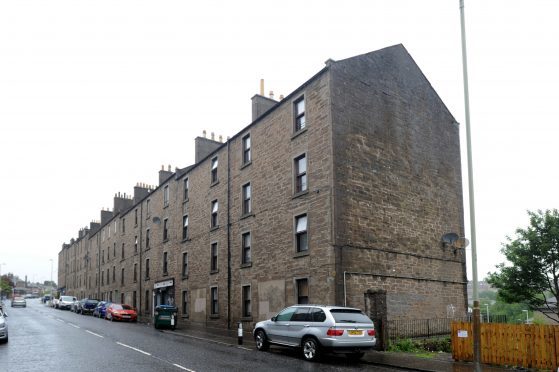 A historic block of Blackness Road flats is to be knocked down after the council discovered it was too expensive to maintain and fix them.
Twenty six flats and a single shop unit are to be brought down after councillors voted to approve the demolition.
Numbers 219-245 Blackness Road will disappear from the West End landscape, having originally been built in the 1890s during the city's jute textile boom.
Persistent problems with the blocks' stairwells prompted the action and councillors were informed the stairs have a maximum five-year lifespan left before they become entirely unsafe.
Roofs on the block also persistently leak and several residents have already been relocated.
The cost of repairing the stairwells was estimated to cost between £880,000 and £1.2 million.
It would have cost each owner between £26,000 to £39,000 in contributions towards the stair reconstruction, after the council had offered scheme of assistance grants.
The demolition and redevelopment option will cost an estimated £4.5 million and has been promised to bring about "good quality, energy efficient affordable homes".
Of the residents surveyed, 14 wished for the block to be knocked down, seven wished for the stairwell to be rebuilt and two did not respond.
The council owns 16 of the properties and will pay each tenant a statutory one-off home loss payment of £1,500.
Councillors heard from tenant, Theresa Derby, who told them she was upset she had to read about the prospect of the block's demise in the newspaper. She also said many residents living in the block had expressed a desire to remain living there.
West End Lib Dem councillor Bailie Fraser Macpherson sought assurances from council officers that tenants who were being made to leave their homes would have the right to return to any affordable homes which might be built in its place.
He said: "We all have sympathy with Ms Derby.
"We have a big problem in that there is not a single consensus view as what to do with the flats going forward.
"I want assurances there will be a right of return for any tenants living there already."
Executive director of neighbourhood services, Elaine Zwirlein, said the council was looking into replacing the properties on the soon-to-be-demolished site.
She said: "I am happy to give reassurances that if they (current tenants) wish to move back to Blackness Road they can
Private owners of flats in the block will receive buy backs and associated payments, estimated to cost the council £800,000. There are 10 private properties in the block.