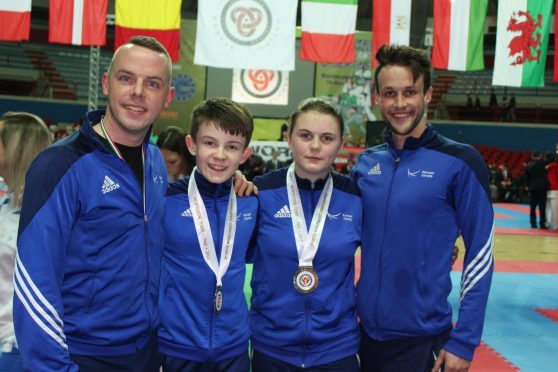 Two youngsters from Dundee have won world championship titles at a prestigious tournament in Italy.
Oliver Bruce and Leah Dunn, who train with Kanzen Karate, were selected to represent Scotland at the UWK World Karate Championships in Montecatini, Italy.
The team flew out last week to take part in the competition with both Oliver and Leah dominating their Kumite (sparring) sections.
Oliver Bruce, 13, current Dundee Young Sports Person of the Year and WUKF European champion, convincingly won the 13-14 years boys Kumite section.
Leah Dunn, 15, who first won a major title three years ago when she won the World Championships aged 12, dominated her group and won the final in style.
The UWK World Karate Championships brings together the best athletes from across the globe with 45 countries present over the four-day competition in Italy.
Kanzen Karate chief instructor and current Dundee Sports Coach of the Year, Sensei Roy O'Kane said the club is "very proud" of the pair's achievements.
He said: "Both Oliver and Leah were simply outstanding during the competition.
"They have worked incredibly hard to get to this position and they thoroughly deserved to win.
"Competing against the best in the world is the biggest challenge these athletes will face and we are are very proud of them both.
"They have once again represented their city and country with pride and distinction.
"They are great role models for other children in Dundee and their success is a major boost ahead of us hosting the WUKF World Karate Championships next year."
The 7th World Union of Karate Federations (WUKF) World Karate Championships for All Ages will be held at Dundee Ice Arena from June 12 to 17 2018, bringing more than 4,000 athletes, supporters, coaches and officials from across the globe.
It will be the first time the competition has been held in the UK and it is hoped the tournament could bring a multi-million boost to the city.