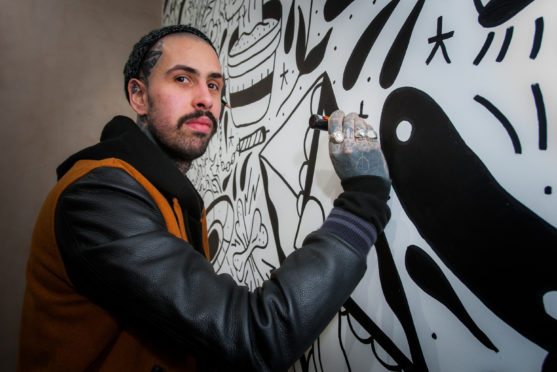 The man behind a popular Dundee barber's is set to open a bar and a coffee shop in the city — both of them decorated floor-to-ceiling with hand-painted murals.
The American diner-themed bar will be in a large premises in the city centre, although Hard Grind owner Richard Davies is keeping the exact location under wraps for the time being.
The coffee shop, named Daily Grind, will double up as a clothes store and will be situated next to the current barber shop on Exchange Street.
It means customers will be able to buy a coffee and a t-shirt, as well as getting a haircut, all under the same roof.
The venture is scheduled to open this week after work on the interior is completed.
The bar, set to open around May, will serve up classic pub food such as burgers with draught beer from local suppliers and Brewdog.
It will incorporate Mr Davies' blossoming Abandon Ship brand. He is in the process of painting wall murals by hand in the new coffee shop and has plans to use the same artistic design for the bar.
Mr Davies said: "The bar will be pretty big and will be in sections.
"We plan on incorporating murals on to the ceiling, as well as the walls.
"It's definitely going to be something that will be a bit different and an experience.
"It will be open during the day for food, as well as at night."
The Abandon Ship brand was started seven years ago this week with the award-winning Hard Grind barbers following three years ago.
A temporary Abandon Ship clothes store, based opposite Hard Grind on Exchange Street for the last six months, has now closed its doors ahead of the new shop opening.
The company's new clothing line will also be launched soon.
Mr Davies added: "We want to build a bigger offering in the city and the coffee shop and bar will be a huge part of that.
"It's taking the ethos of the brand and continuing that theme.
"The coffee shop is the starting point. We haven't said too much about the bar yet as we're still working on a few details.
"We also have another project in the works for the pop-up shop on Exchange Street.
"It's a really exciting time and we can't wait to show everyone more of what we're working on."