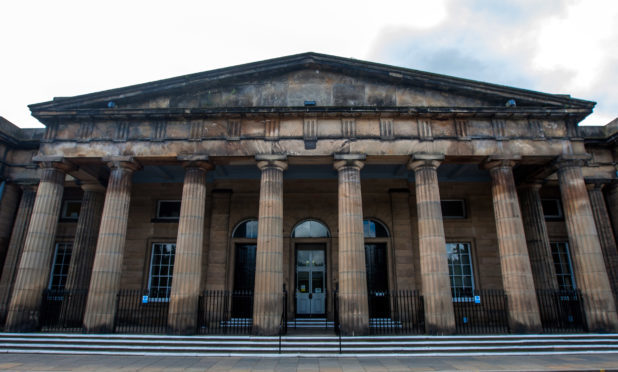 A teenager whose father was knifed to death by his mother has been jailed after threatening to stab and kill a string of victims.
Drew Anderson, whose dad Dougie was killed last February, faced a series of charges dating back to 2015 when he appeared in court on Wednesday.
Among those he threatened was a pregnant woman, who was trying to flee his Blackford home last October.
The woman was attempting to escape through a window after Anderson, 18, had barred the door to the property in the village's Arnott Road.
She and other witnesses were left terrified when he told her he was going to get a knife as he made his way to the kitchen.
Just months earlier, Anderson had threatened a bus driver who kicked him off the vehicle for intimidating a 14-year-old girl.
Depute fiscal Tina Dickie told Perth Sheriff Court Anderson had begun making comments about the girl, who he did not know.
"Her mother got on the bus at another stop and the girl went to sit with her," she said.
"The mother approached the accused  and his partner and asked if he had a problem with her daughter. The accused became irate and began shouting and stated that he would kill the younger witness."
After being told to get off the bus, Anderson damaged the vehicle and another was sent.
As passengers were being transferred, the dispute escalated and bus staff had to restrain him.
Ms Dickie said: "The accused then stated that he had a knife and would stab them."
Instead Anderson hurled a rock at the windscreen of the second bus, causing it to smash in front of the driver's face.
In February Anderson threatened to kill a neighbour who had confronted him about putting dog mess in his bin.
Solicitor David Holmes, defending, said the teenager's personal circumstances had "not been the norm" and he had suffered difficulties, including the death of his father and the incarceration of his mother, Louise.
During Wednesday's court appearance, Anderson admitted behaving in a threatening and abusive manner and recklessly damaging a bus in Auchterarder's Western Road on June 15 last year.
He was also convicted of abducting the woman in the Blackford incident by barring the door, preventing her from leaving through the window and assaulting her by seizing her, pushing and pulling her.
He was further convicted of behaving in a threatening and abusive manner in Elmvale, Auchterarder, on February 26 and of behaving in a similar manner on Perth's Dunnock Park by brandishing a hammer and wilfully damaging windows there in November 2015.
He was also convicted of assaulting a police officer with a metal pole and struggling with officers on Kirkcaldy's veronica Crescent in June 2015.
Sheriff William Wood jailed Anderson, who has recently been held at Polmont, for a total of 27 months.
Louise Anderson was jailed for six years in 2017 after she admitted stabbing her husband to death at the family home in Dunnock Park, Perth.
The mother of four told a police support worker: "The kids will never forgive me."
Taxi driver Mr Anderson, 39, was described by friends as "a popular family man".