Dundee's children and families convener has apologised after being blasted over a series of expletive-laden outbursts on social media.
Councillor Gregor Murray launched into a stream of explicit tirades on Saturday following reports of an anti-trans protest at a London Pride event.
The councillor, who identifies as gender non-binary, described a group of women blocking the front of the march as "utter c***s" and asked a fellow Twitter user, "where's your f***ing solidarity you transphobic b******?".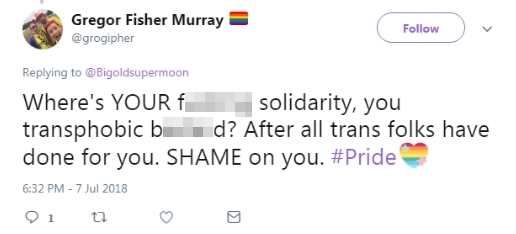 Cllr Murray added: "Get to f*** with your medieval views, you horrible bigot. Stonewall started with trans people. Don't you f***ing dare sully it with your anti-trans b*******."
The children's convener has now admitted the use of such crass language "reflects badly upon my city and my party" after facing a backlash over the outbursts.
Cllr Murray said: "Over the weekend, a small minority of Trans-Exclusionary Radical Feminists attempted to disrupt Pride in London. They misrepresented the history of our LGBTI Community, and attacked many of my friends and colleagues.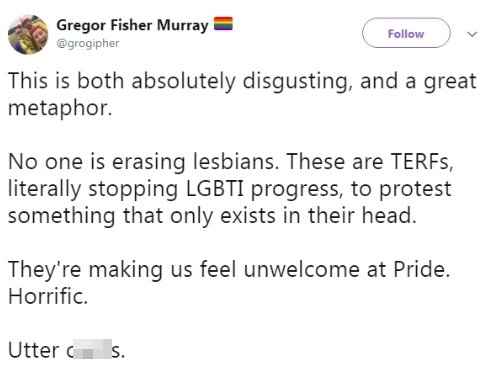 "In my anger, I used a lot of crass language which was not appropriate. I took their messages personally, and reacted in a manner which reflects badly upon my city and my party.
"While I will always stand up for equality and for those most vulnerable, I realise that I should reflect on how best I should achieve those aims."
The rants were the latest in a long line of foul-worded tweets and online activity from Cllr Murray, who has repeatedly landed in hot water over remarks on social media.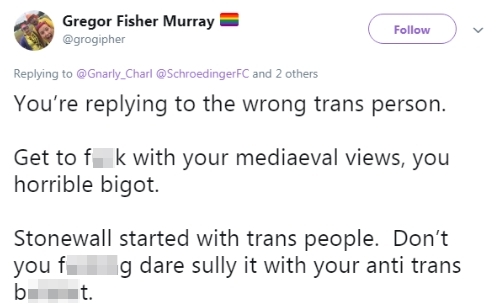 Councillor Philip Scott, who also sits on the children and families services committee, said the latest actions "do not look good at all" for the administration.
He said: "You would have thought Gregor would have learned from previous occasions that this really is not a good example to be setting.
"[Council leader] John Alexander must now tell Gregor to tone this stuff down. I would never dream of using that kind of language on social media.
"If you're a parent or a teacher and you saw that kind of stuff being posted, you would be thinking 'for goodness sake, sort yourself out'.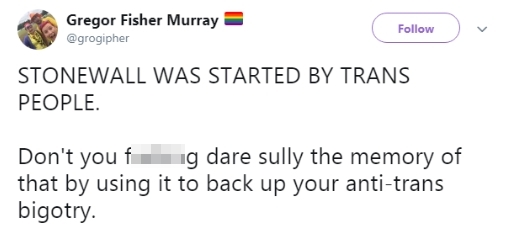 "I know this is a really important issue that Gregor is very passionate about but however provoked you may feel, I just cannot understand the need to use that kind of language."
One council worker, who contacted The Courier to raise the alarm over Cllr Murray's comments, said they were "appalled" that a children's convener could behave in such a way.
"What example is that to the children of Dundee?" the employee asked.
Pupils in Dundee schools have been warned about inappropriate conduct online, including when posting from social media accounts.
Councillors are also warned about their behaviour, with the official code of conduct covering all situations "where you act as a councillor… including representing the council on official business and when using social media".
It states: "You must respect your colleagues and members of the public and treat them with courtesy at all times when acting as a councillor."
Councillor Willie Sawers, depute leader of the SNP Group said: "This language is clearly inappropriate and Cllr Murray has acknowledged this.
"Cllr Murray is currently on holiday and we will discuss this matter on the councillor's return."
---
Convener's conduct has impacted on party colleagues
Councillor Murray's actions have repeatedly caused chaos for fellow councillors and politicians.
In August, council leader John Alexander was forced to back the convener following a row with a school chaplain in a Dundee playground branded "ridiculous" by opposition parties.
Cllr Murray, the authority's equality spokesperson, was also called out last year by then Scottish Labour Kezia Dugdale for "blatant sexism" after he branded a women's group campaigning for equal representation as "absolute roasters".
In 2015, the councillor engaged in an unseemly online spat with the moderator of the Free Church of Scotland, Rev David Robertson, and was accused of using "hate speech".
Cllr Murray defended the comments, insisting they will always stand up for LGBT rights.
The year before, while deputy convener for education, Cllr Murray attacked Alex Salmond's plan for a 40% female quota in boardrooms as "f***ing stupid" and "tokenism".
The councillor, who previously worked for Shona Robison, the Cabinet Secretary promoting the scheme, dismissed it as "the biggest load of p*** I have ever seen".
Ken Guild, who was head of the SNP administration at the time, was forced to defend not taking disciplinary action.