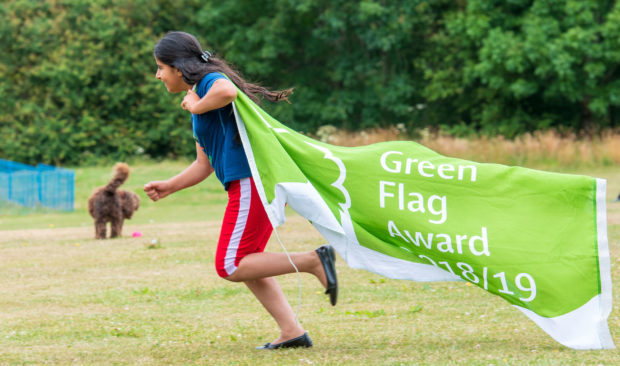 Slessor Gardens has become the latest Dundee park to be awarded Green Flag status by environmental charity Keep Scotland Beautiful.
It is one of 71 parks  across Scotland which have been recognised for their clean and safe outdoor spaces.
Slessor Gardens was officially opened by The Queen in April 2016.
As well as providing a green space in the heart of Dundee, it is also used as a venue for outdoor concerts in the summer.
Rita Ora will perform later this month while Simple Minds and The Pretenders will co-headline a gig in September. It will also host a concert to mark the opening of the V&A later that month.
Derek Robertson, chief executive of Keep Scotland Beautiful, said: "Scotland's parks provide a valuable resource to communities across the country and access to quality green space is vital in helping to tackle some of the health and well-being challenges we face.
"I would like to congratulate all 71 parks from across Scotland for achieving this prestigious benchmark.
"The Green Flag Award scheme sets the standard for the management of our outdoor spaces and recognises the hard work of everyone involved. These are exceptional open spaces and the nation benefits hugely from them."
In Dundee, five other outdoor areas or parks have already been awarded Green Flags: Dundee Law, Barnhill Rock Garden, Trottick Ponds, Baxter Park and Templeton Woods.
Alongside Slessor Gardens, four other new parks have also been given Green Flag status this year: Fairmilehead Park and Lauriston Castle Park in Edinburgh, Victoria Park in Aberdeen and Breadalbane Park in Killin.
The awards are intended to promote the benefits of having well maintained parks, which include enabling exercise, improving mental well-being and encouraging children to play.
John Howie, organisational lead for health equity with NHS Health Scotland, said: "Where we live and where we spend our time has an important influence on our health and well-being. Good public places tend to be well looked after, are safe, attractive and accessible and strive to offer something for everyone.
"NHS Health Scotland are delighted that the Green Flag Award recognises these qualities and celebrates the invaluable efforts of Keep Scotland Beautiful, partners and communities across the country to ensure our public places continue to contribute to our health and well-being in a positive manner."