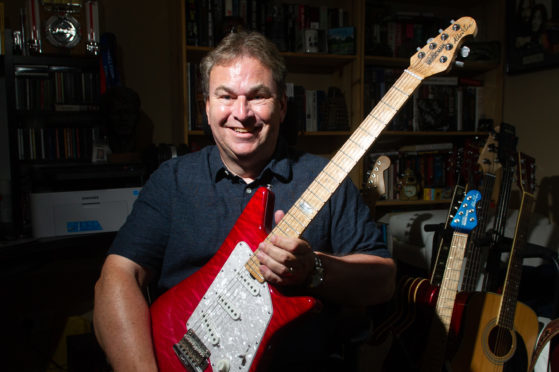 Scots music heroes Runrig will bring the curtain down on their illustrious career this month with two sold-out farewell concerts in Stirling.
Former Dundee guitarist and DJ Pat Kelly has recalled the time that 'fake news' almost put him at the centre of a media circus at the height of the band's fame.
The incident happened in the early 1990s during a period which marked Runrig's most successful run during which time they achieved placings in both the UK albums and singles charts and toured extensively.
Mr Kelly, who was a well-established guitar player on the session circuit at the time, took a job for a gig in Lairig with a band which also included Runrig drummer Ian Bayne.
A classic case of Chinese whispers after the gig made it back to the showbiz desks in the UK press and Mr Kelly was nearly announced as the new member of Runrig.
"I had been playing freelance in various bands in the early 1990s and at the time I had been on a tour of Scotland," he explained.
"I was playing bass with 'Britain's Mr Country Music' Tony Goodacre and also in the band was a great session guitarist called Roger Rettig who would introduce me to Gerry Hogan and Albert Lee.
"I had a weekend off and received a phone call to ask if I was available to play up in Lairig on a Saturday night.
https://www.youtube.com/watch?v=f3l8evgCSaE
"I was free so decided to take the job.
"In the band that night was Runrig drummer Ian Bayne.
"I must admit Ian was one of the finest drummers around and great to work with.
"Anyway, on the Monday, I had stopped off for a beer at my local pub and was asked what I had been up to at the weekend by a regular.
"I said that I had been working with Tony and had been playing up north with Ian."
Unknown to Mr Kelly someone was listening in and phoned up the showbiz desks with the news that Runrig had signed a new guitarist.
Mr Kelly's phone was soon ringing off the hook but he managed to set the record straight before he became the subject of unwanted headlines.
"The first phone call I got was from a journalist asking if I was joining Runrig as that is what he had heard," he said.
"I just laughed and told him nothing could be further from the truth.
"I simply explained the situation and we both laughed.
"It was a classic case of Chinese whispers and eavesdropping.
"I was simply caught up in a fake news story.
"But it would have been nice to have joined them as I always liked their music."
Runrig signed to Simple Records in 1984 and released their fourth studio album in 1985.
But it was the band's fifth studio album, The Cutter And The Clan in 1987, which had originally been released on the independent Ridge Records label before being re-released on Chrysalis, that lit the spark and brought the band to wider audiences in the UK and Europe.
The band would go on to rock to some of the most iconic venues in the UK and Europe – from sell-out shows at the Royal Albert Hall in London to castles and arenas across Germany and Denmark, to Times Square in New York.