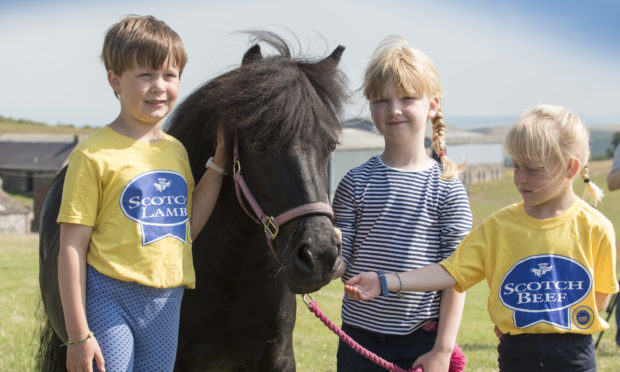 Thousands of visitors have descended on Perth in a multi-million-pound boost to the city.
The first day of the 156th Perth Show, saw huge crowds swoop to get a glimpse of many equines.
Friday saw various horses and ponies take to the field.
Spectators basked in the glorious Perth sunshine for a day of family fun.
Locals also had the opportunity to taste some of the best local produce, as the annual Perthshire on a Plate promoted the finest food.
Traders from across Perth and Kinross, including Cairn o'Mohr and Clootie McToor, were on hand to give a taste of the area.
Neil Forbes, secretary of the Perthshire Agricultural Society, said: "It's perfect weather this year, we have forgotten all about last year.
"Weather like this makes the show and it makes people want to come out.
"It's the only agricultural show in the country which is in the heart of the city centre.
"It really is a great opportunity for people to come out and see livestock up close.
"Numbers for the show are very good.
"Hopefully with more good weather, Saturday will see more locals come out.
"There is something for everyone with the food shows and family fun events so everyone can have a good time."
On Saturday, more livestock will take to the grounds with sheep, goats, donkeys and Shetland ponies all expected.
The show has moved over to South Inch from Lesser South Inch, after heavy rain at last year's event destroyed the grass.
With more space this year, Mr Forbes said it has created a better atmosphere for the public.
He added: "We have been in this park in the past, but this year has a completely different layout.
"It is creating a much better ambiance for everybody involved."
Friday's show was also used as a qualifier for the Caledonian Showing Championships.
Winning show horses will now take to the grand finale in Fife in October.
In the show's final day, the champion of champions will be announced, with different livestock going head to head for the top prize.
Mid Scotland and Fife Conservative MP, Murdo Fraser, said: "Perth Show is one of the stand-out events in the Scottish summer calendar and is responsible for bringing a large number of visitors to the city, which is obviously good news for the local economy.
"Every year the show seems to get bigger with more exhibitors and this year is set to be no different.
"Perth show is not just for those involved in agriculture but has something for the whole family and I would encourage people in Perth to make it along this weekend."