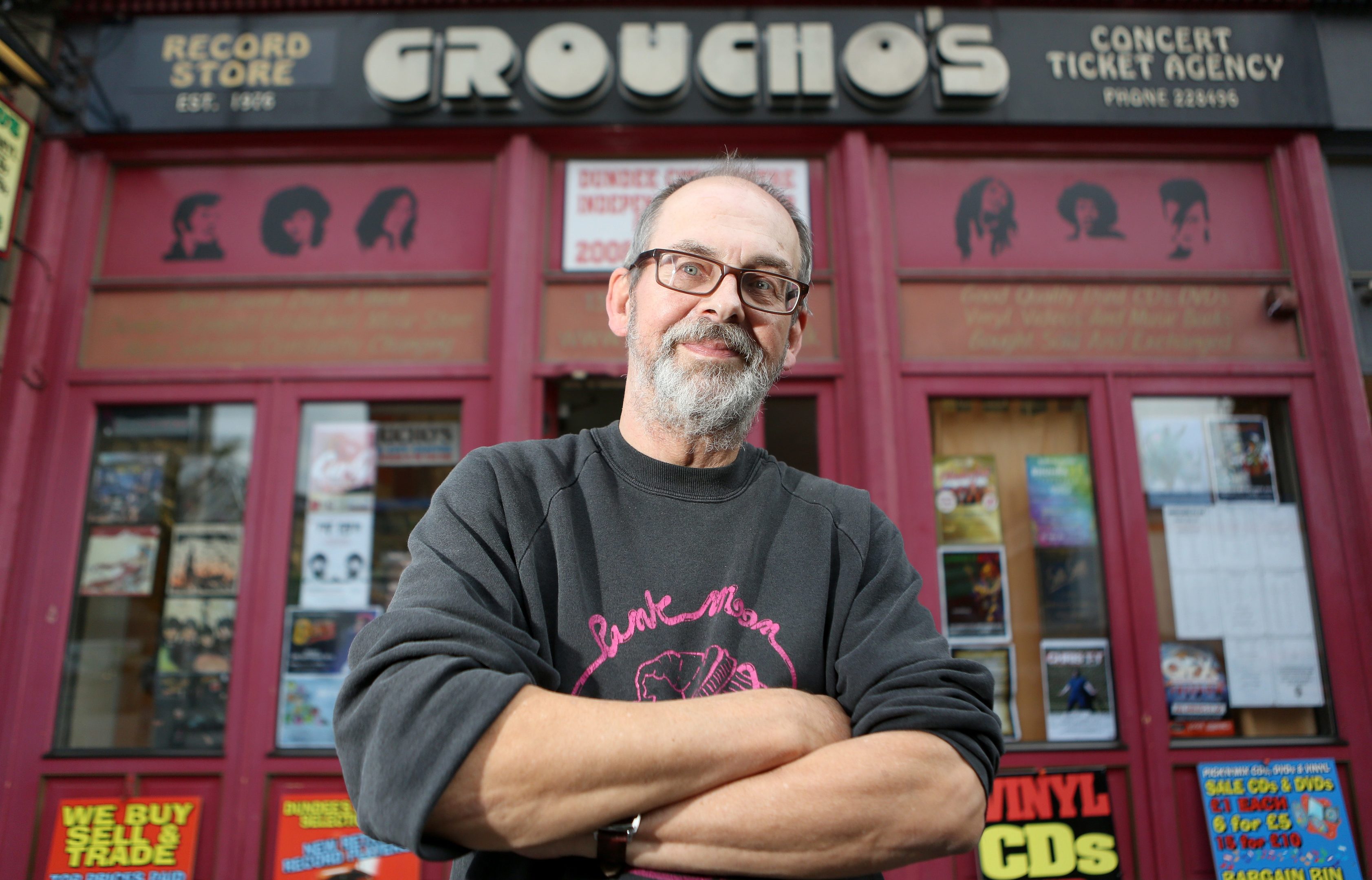 Iconic Dundee record store Groucho's will close down for good unless a buyer can be found within the next year.
The owner of Groucho's, which has been selling vinyl records in the city for 42 years, has announced he will retire in August 2019.
Alastair 'Breeks' Brodie, who opened the store aged 22, cited health reasons for the decision but said he hopes to sell the business so someone can "carry the mantle on" and keep Groucho's alive.
The move has also been prompted by the fact the Nethergate building in which the shop sits has been placed on the market as Mr Brodie's 20-year lease — charged at £25,000 per year plus VAT — expires in 2019.
Any new owner would then have to negotiate a new lease or find an alternative home for the store.
The hugely popular music store has been housed prominently at the Nethergate for 19 years, having moved various times since it first opening on Perth Road in 1976.
Not only is the store popular with locals, it has also gained fame internationally.
Johnny Marr, of the Smiths, regularly drops in and describes it as one of the top two record shops in the UK.
Other famous fans include comic Lenny Henry and Fleetwood Mac's Peter Green.
Mr Brodie, who will turn 65 in October, has been battling a number of health difficulties over the past few years, including prostate cancer, a hernia and Crohn's disease.
He described it as the "right time" to retire.
He said: "I realise Groucho's is an institution in Dundee and that a lot of people will be quite upset when it goes.
"It's become a bit of a community hub at times. I have loved my time running the store.
"I just feel it's the right time. It will be sad not to have the interaction with the every day customers day-to-day but I need a rest.
"I still enjoy it but I just have to be aware of my health.
"I don't want to keel over in the shop one day and get carried out here in a box.
"I'd rather have a wee bit of time to relax because the nature of the job is that I spend a lot of time working — either here or at home."
The owner of the premises died a number of years ago with his son then taking ownership. Following an evaluation, the ground floor unit has now been put on the market for offers over £250,000.
Mr Brodie added: "The owner of the premises has been great, I don't have any problems with him.
"I was told earlier this year that this was happening.
"I don't have the energy to move again at my age and with my health. I asked for a couple of years' extension but that wasn't feasible.
"I would love if someone could take over the mantle and carry on. I would want that for the people of Dundee.
"I'm open to anyone who would want to discuss taking it over. There's no need to panic yet though. I still have a year left.
"Expenses have gone up recently but our sales have been better this year than they were last year. Part of that is thanks to sales online.
"When we do close down and it comes to a natural end, we'll probably just have a big sale. Everything will go, all the stock is already paid for.
"We don't owe anybody anything."
Shepherd Chartered Surveyors are advertising the 1,860 sq ft ground floor retail unit, which is part of a category 'B' listed end terraced tenement.
It comes amid plans for a nine-screen cinema plus restaurants, cafes, a hotel and residential accommodation on land at Greenmarket at the back of the store.
The ambitious development is currently still at the proposal stage following a public consultation.