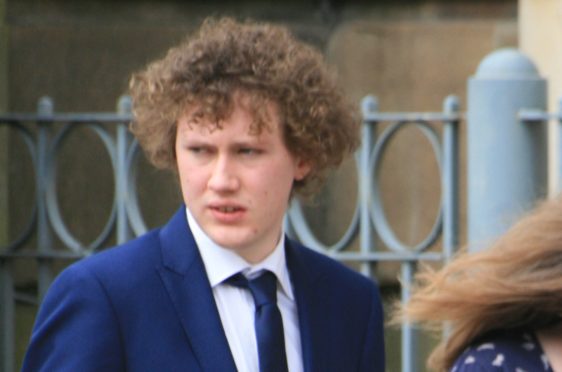 A man who hid in the female toilets at a Dundee nightclub to film women in a state of undress has avoided jail in an "unusual" move by a sheriff.
Levon Anderson was described by his defence solicitor as a "young man with certain difficulty" and was placed on supervision for six months.
Sheriff Thomas Hughes admitted that he was taking an "unusual view" on the case.
Anderson, 21, held a mobile phone under the partition separating the cubicles in the nightclub toilets.
His phone was spotted by a woman in the cubicle next to him, who then tried to grab the device.
At an earlier hearing, fiscal depute Kate Irwin told the court: "She attempted to seize possession of the phone but it was retracted back into the other cubicle.
"The witness waited in the bathroom for around five minutes until the accused exited the cubicle. He was confronted by the witness and another female.
"They seized possession of his mobile and he was then escorted from the club by doormen.
"The woman later looked at the mobile phone and noted two videos had been recorded of females using the bathroom, one of which was herself.
"This was handed over to the police, who interviewed the accused and he made full admissions."
Anderson, of Harefield Road, pleaded guilty on summary complaint to a charge under the Sexual Offences (Scotland) Act committed on November 25, 2016.
He admitted recording a named woman and other female persons with the intention of enabling himself or another to look at the image by recording them in the lavatory in a state of undress.
Defence solicitor Jim Laverty said: "There is a way forward for a short period of supervision.
"He is a young man with certain difficulty."
Sheriff Thomas Hughes sentenced Anderson to six months supervision and placed him on the sex offenders register for six months.
He said: "I would say this is an unusual case.
"I have received a very detailed background check on you and I'm going to take a very unusual view in placing you under supervision."