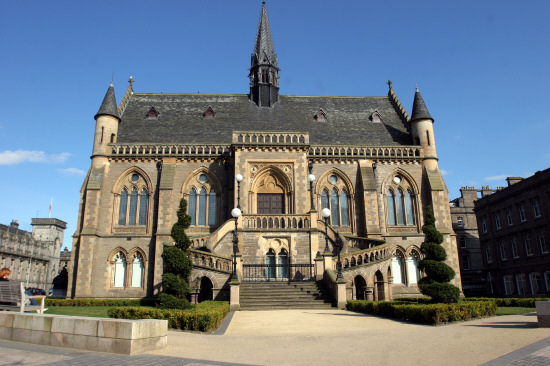 Dundee's McManus Galleries were created during a "golden decade" for the city when it was high on the success of the jute trade, according to new research.
The McManus 168 project was set up to unearth information about the original subscribers to The Albert Institute , now known as The McManus, as part of the museum's 150th anniversary celebrations.
Working with prominent historians Professors Jim Tomlinson and Chris Whatley, the volunteers and specialists have uncovered information on 232 of the original 261 subscribers who originally funded creation of the museum in 1867.
Chris Whatley, Professor of Scottish History at Dundee University, said: "The campaign for the Albert Institute reveals so much about Dundee during what was a golden decade.
"The 1860s represented the heyday of the town's jute industry. With the boom in textiles and Dundee now the world centre of jute production – 'Juteopolis' – civic pride blossomed.
"This manifested as a vast programme of civic improvement, which laid the foundations of modern Dundee.
"The decade of the 1860s was as transformational as what's happening now at the waterfront and, arguably, had a greater impact on the town's inhabitants.
"In effect, the Albert Institute was Victorian Dundee's V & A – designed by a world-ranking architect and, like its modern counterpart impressed those who saw it for the first time."
Professor Whately added the 168 Project had shed light on the forgotten donors who helped create the museum.
He said: "Unlike the V&A, the Albert Institute was funded by private individuals, not the state and its several agencies.
"With the resource created by the 168 project team – that is hitherto hidden details about the subscribers to the Albert Institute – we now have a much better idea.
"Now anyone interested can find out who they were, what they did for a living, where they lived and what motivated them to contribute to the refashioning of Dundee at a time when the city was desperately in need of reform.
"Hopefully it will inspire further research into this truly formative period in Dundee's history. We know a great deal about the downsides of Juteopolis – the social suffering as the jute trade struggled in the face of international competition.
"Too little though is known about the individual men and women who dedicated time, effort – and their money – to turning Dundee into one of Scotland's great cities. "
Full information on 232 subscribers of the 261 original subscribers has been collected for the archive, and is being entered on to a permanent, freely accessible web archive including references to the source material.
The Heritage Lottery-funded project more than 100 volunteers.
Billy Gartley, Head of Cultural Services at Leisure & Culture Dundee said: "This project has provided a fantastic link with the past.
"More than 100 people have given up their time to research the original subscribers of the building. These volunteers have shown the type of enthusiasm and civic pride that allowed the Albert Institute to flourish more than 150 years ago."