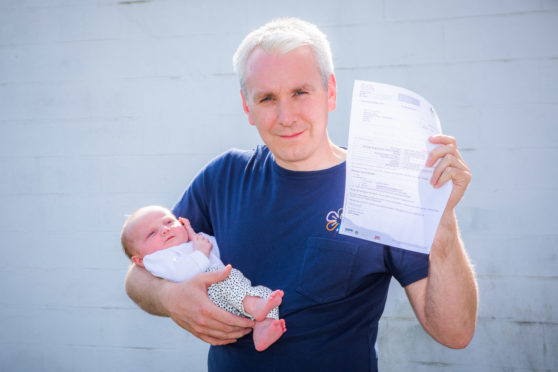 A new dad has vowed to fight a £130 parking ticket issued at a Tayside hospital while his seriously ill partner was giving birth to their daughter inside.
Kevin Coull arrived at Ninewells Hospital in Dundee in the early hours of Monday June 24 and parked as close to the accident and emergency unit as he could.
His partner Lisa Jamieson had been rushed to the hospital by ambulance because staff at Arbroath Infirmary were concerned about her blood pressure and the health of the couple's unborn baby.
Kevin didn't realise at the time that he had parked in a staff-only area of the car park but the team in the labour ward assured him he would be okay without a permit in the circumstances.
By the time he walked back out two hours later, who is now the now proud dad to baby Isla, he found parking company SABA had put a ticket on his car at 6.30am, despite the car park being almost empty.
Kevin, of Gardyne Street, Friockheim, said he had taken legal advice and would go to court if the company refused to waive the charge.
He said: "I was in a rush to make sure that Lisa was alright so I parked the car and didn't look at the signs and went into the hospital.
"The car parks were empty when we arrived and they were still empty when I went back outside at about 7am.
"I am planning to fight the parking ticket as I think it's unfair and not right that it was issued in the circumstances."
Ninewells is one of only three hospitals in Scotland that still charges for the use of its car parks. The Scottish Government has said it would be too costly to pull out of the 30-year agreement, signed under a previous Labour government.
North East region MSP Bill Bowman has been urging people to sign a petition launched by the Scottish Conservatives to bin the charges at the remaining hospitals.
He said: "Situations like Mr Coull's could be described as absurd, were it not for the human cost.
"This simple misunderstanding is typical of the inequality faced by Ninewell's visitors and staff.
"It is sheer folly to perpetuate it.
"That is why I have repeatedly asked the Scottish Government to consider alternatives to the arrangement.
"There have been several incidents of this kind in the recent past, suggesting there has been a hardening of policy."
SABA has been approached for comment but failed to respond.