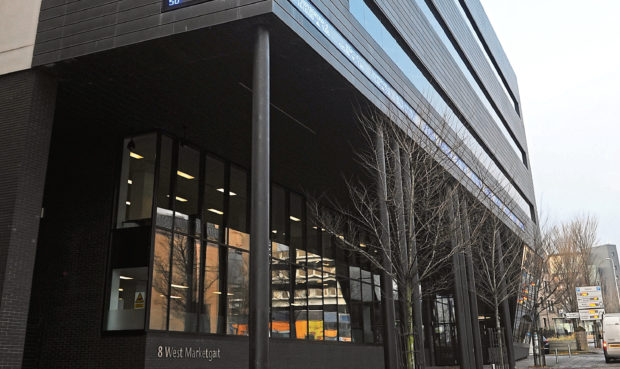 Hundreds of workers in Dundee are facing uncertainty after the financial firm that bought over Alliance Trust Savings (ATS) in a £40 million deal revealed plans to sell off part of the business.
Around 300 staff employed by ATS switched to Interactive Investor (ii) as part of the agreement concluded earlier this month, which also saw Alliance Trust's iconic "ticker tape" headquarters in West Marketgait change hands.
Workers were called to meetings with senior management on Thursday when proposals were outlined to absorb the vast majority of the work in Dundee into Manchester-based ii by September.
CEO Richard Wilson also introduced staff to bosses of Embark Pensions as it was announced the firm is in talks to take over the rest of the day-to-day business, largely dealing with pensions and financial advice, in the coming months.
Following the meeting, staff said Mr Wilson was unable to say whether ii would maintain a presence in Dundee following any such sale.
A spokeswoman for the firm said it had "met our commitments to Dundee to date, and we endeavour to continue to meet them".
She added that if the deal does go through, "we'd expect a very positive outlook for all stakeholders".
Embark is one of the largest pension providers in the UK with major infrastructure in Manchester and London, and staff expressed concern over whether the deal could lead to all jobs at the West Marketgait centre being put at  risk.
One worker, who asked to remain anonymous, said: "No confirmations of job losses were given but also no confirmation of job security was given.
"The staff are all feeling very unsure of their future and are fearful of the worst- with many talking of seeking employment elsewhere already."
ii's acquisition of ATS was first announced in October last year and was described as an "important milestone" by chief executive Richard Wilson.
The company insisted at the time that the intention was to invest in the landmark West Marketgait site following the purchase.
ATS said fierce competition and the need to invest in technology were among the reasons for the sale.
A spokeswoman for ii said: "Since the sale of ATS to Interactive Investor was announced in October 2018, we have been listening and talking to various stakeholders of the ATS advised and partnership businesses, ahead of setting out our plans.
"Separately, during this process, we received a number of inbound enquiries from specialist providers interested in discussing a potential purchase of this side of the business. We can confirm that we are in discussions with Embark.
"While we regularly talk to lots of businesses, we wouldn't comment on anything unless we had something definite to announce.
"While we appreciate that ATS is a high-calibre business and of interest to many parties, it is important to stress that nothing has been concluded, and more importantly, it is business as usual for our advised and partnership customers.
"We continue to review and discuss all our options with ATS's stakeholders.  Once the review process has completed, we will set out our plans in the second half of this year.  Until then, we are focused on continuing to offer all our customers an excellent service."
An Embark spokesman said: "We can confirm we are in discussions with ATS and a further announcement will be made at the appropriate time."