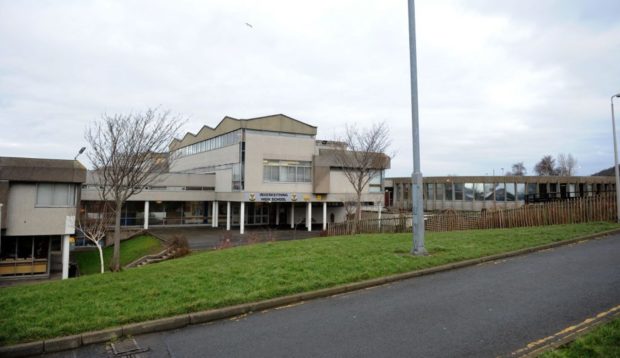 Two preferred options for the proposed multi-million pound replacement of Inverkeithing High School are to be taken forward for further scrutiny.
Education officials will spend the next few weeks exploring the opportunities presented by the pair of sites which have now been shortlisted from a previously whittled-down list of six potential locations.
Members of Fife's education and children's services committee have heard that the Fleet Grounds site in Rosyth, and land to the north of the A921 closer to Inverkeithing, can meet most of the educational requirements for site selection fully and are capable of accommodating a state-of-the-art building.
Education briefs and designs for both options will now be drawn up, while council officers will also be asked to investigate and negotiate acquisition costs with respective land owners.
Indicative estimates suggest the A921 site – essentially across the road from the existing school – would be the pricier option with a bill of around £69.5 million, higher than the £63.7 million price tag put on the Rosyth option.
However, councillors were told the costs were actually comparable when taking into account the council's need to continue delivering existing community use facilities for the Inverkeithing, Dalgety Bay and Aberdour communities.
Shelagh McLean, head of education and children's services, said: "The scale of the investment is significant and should be considered in terms of the overall wider capital plan."
The way forward comes just days after a petition calling for the new school to be built in the town and not relocated to Rosyth attracted more than 1000 signatures in just four days.
Remodelling or even creating a new build on the existing site were ruled out during the process, largely due to the fact it is a B-listed building and the difficulties obtaining necessary planning consents which could cause delays.
The need to decant pupils while construction was ongoing similarly worked against that option.
However, council officials have pledged to consider community requirements in response to points raised by SNP councillor David Barratt and Conservative councillor Dave Dempsey, who questioned why some parts of the existing site could not be used.
Mr Dempsey, for example, said it was worth officials exploring the possibility of using the existing playing fields, adding: "One of the mantras we use is reduce, reuse and recycle and there are all sorts of questions about why much of the site can't be reused.
"Why would we have to commit virgin ground to new playing fields?"
Ms McLean said that would then enter the council's definition of a "split site", which was not favoured, but pledged to look at the issue as part of the next stage of the process.