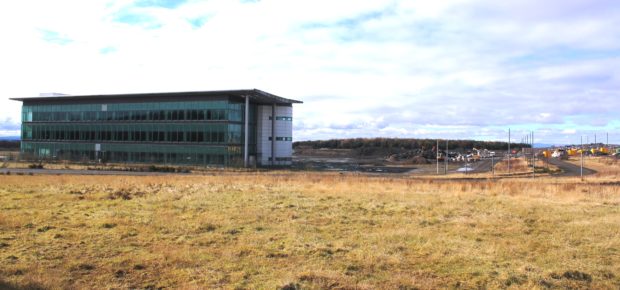 Questions remain over how Dunfermline's planned £180 million super campus will be funded, as it emerged Fife Council will have to borrow cash upfront for the project.
Education officials have told councillors they expect the proposed campus at Halbeath — which will bring together pupils, students and staff from the fire hit Woodmill High School, St Columba's High School and Fife College — to be ready for occupation during the 2024/25 academic session.
The Scottish Government announced after the Woodmill fire in September it would fund the college element of the joint campus, up to £90million, via capital grant but assumptions made by officers about the level of support for the schools element, based on previous Scottish Government funding models, have proved incorrect.
A new funding model requires local authorities to borrow cash from the Public Works Loan Board (PWLB) or use their own capital budget to pay for constructing a new campus.
That puts extra pressure on the council's capital plan, which has so far earmarked £117.6 million of capital funding over 10 years for west Fife, for both the replacement of St Columba's and Woodmill and also Inverkeithing High School.
Fife Council co-leader says small print of Scottish Government's £90m Woodmill High School vow is 'slap in the face'
A report by Carrie Lindsay, executive director for education and children's services, explained a Scottish Government contribution of 67% had been assumed for some of the projects within the £117.6 investment approved in the council capital plan but The Courier understands that is now likely to be nearer 50%.
Ms Lindsay notes: "The schools element of the campus would be funded as part of the £1 billion learning estate investment programme through a new revenue funding model.
"As the new Scottish Government funding model is revenue based, their contribution will pay for ongoing maintenance of the new facility and other outcomes to be determined on a case-by-case basis."
With council officials now told to continue exploring potential funding sources and appoint a design team for the campus, Liberal Democrat education spokesperson Councillor James Calder said the update has raised more questions about the project.
"There is still a lack of clarity on funding as it is clear that the SNP Scottish Government are unwilling to provide the amount necessary which is very unfortunate.
"In addition there are local concerns raised from engagement sessions regarding the economic impact on Abbeyview, the traffic impact caused by three facilities in one location and also on child safety concerns.
"The Fife Council administration must work to ensure these concerns are addressed and mitigated."
Fife College has already purchased part of the site from landowner Shepherd Offshore to replace its existing building on Dunfermline's Halbeath Road, while the council is working towards securing an options agreement to do likewise on an adjacent part of the site.
---

---