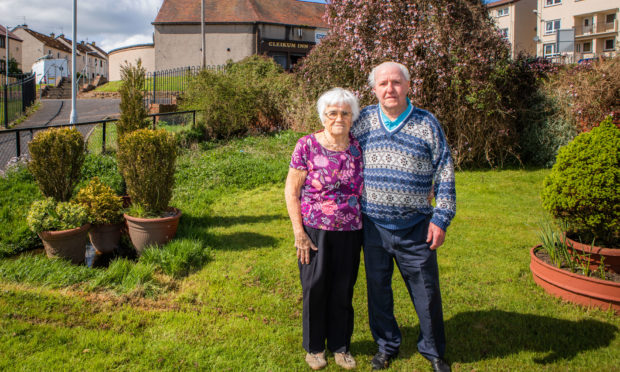 A Fife couple promised a solution to their persistently flooding garden have been told by Fife Council they will have to pay up to £13,000 up front.
Mary and Stephen Murray's garden in Kirkland Park, Ballingry has been hit by flooding for more than a decade and the pair of pensioners fear the water is encroaching so close to their privately-owned home it may cause lasting damage.
The family believe the problems started when Fife Council built a play park nearby around 10 years ago but council and Scottish Water officials have failed to establish from where the issue originates.
The saga took a more positive turn in June when the local authority said it had a "possible solution" to the flooding but Mr and Mrs Murray have now been told they will have to pay thousands of pounds to have it fixed, which the council says it will then pay back.
Their son Stephen has questioned the logic behind the plan and cannot believe his parents will be landed with a huge bill.
"The council said because contractors are going to be doing work in a private garden, they can't shell out the money and we would have to pay it up front.
"Seriously? My mum and dad are 87 and 88. I've never heard of anything like it before.
"Something needs to be done but both Fife Council and Scottish Water have been out and they aren't getting anywhere. Mum and dad don't know what to do."
The council has written to the family confirming "very strict" procurement rules means Fife Council cannot pay the contractor directly, as the local authority cannot act as a third party to settle the cost of the works.
The letter also says the authority cannot procure the works directly as that would make the council liable for the work and any ongoing maintenance costs.
Housing manager Russel Gray said: "We appreciate that the situation is less than ideal for the home owners.
"Unfortunately the source of the water, and therefore the legal liability, remains unidentified.
"As the flooding is occurring on private land, Fife Council is not permitted to directly commission and pay for the drainage works to their garden.
"We believe the only course of action is to divert the flow of water entering the garden.
"If Mr and Mrs Murray would like to proceed with the suggested work, we are prepared to reimburse them for the full amount, however we appreciate the initial outlay costs involved so we are exploring different options to try and assist Mr and Mrs Murray."