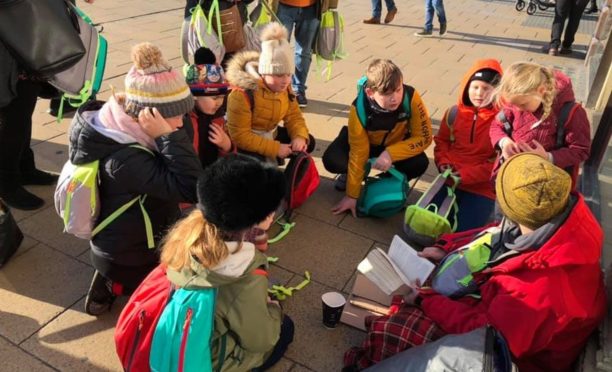 Youngsters from a Fife town have made a mercy mission to help homeless people living on the streets of Edinburgh.
Members of the Busy Bees youth group, along with volunteers from the Kats Mission charity in Kinglassie, took the train to the capital last weekend to hand out back packs to those sleeping rough on the streets.
The pack, specially made up by the youngsters, contained socks, scarves and gloves as well as toiletries and food items including energy bars and chocolate to help ease the pressures for those without a roof over their heads.
Catherine Sala Murray, who runs the Fife based charity and community hub said the initiative had proved such a success the youngsters no want to do more to help the homeless closer to home in towns and communities across Fife.
"The children have grabbed the idea with both hands and run with it from the start on this, it's been wonderful to see," said Catherine.
"Last year we made up packs and handed them in to a local homeless charity but this time around the children wanted to see first hand who would benefit.
"So once we'd checked it was ok to do this in Edinburgh we went over and the children met a number of people who sleep rough who were willing to help the children distribute the packs.
"As well as the obvious immediate benefits to those who received the packs it proved a huge learning curve for the youngsters who range for five to 11-years old.
"It gives the children an understanding situations such as homelessness and an empathy towards those less fortunate than themselves.
"That's something you don't always see in society.
"The children were fantastic, engaged with those they met and, most importantly, were willing to listen to those they met.
"The only negative issue of the day was the attitude  and lack of respect of some grown up members of the public towards Edinburgh's homeless community."
The charity are now working on getting as collection of blankets to distribute and are planing a number of other initiatives to help those less fortunate than themselves.
"The kids are a great bunch and this will give them such a grounding and an understanding, as well as a caring attitude," Catherine added.
"I'm so proud of every single one of them."