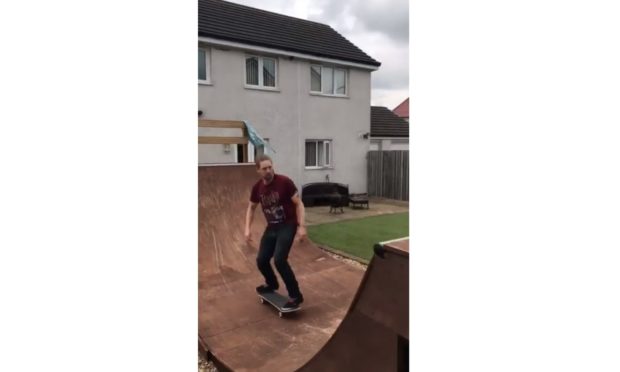 A skateboarder who built a half-pipe ramp in his back garden has been ordered to tear it down after losing a battle with Fife Council bosses.
Ross Salitura, 29, regularly practised his skills on the 23ft long structure. It is 7ft wide and has 4ft raised platforms at both ends but had fallen foul of planners.
Mr Salitura, of Kinglassie, was given the £1,000 self-assembly kit as a Christmas present. The business consultant claimed he used it for exercise, did the majority of his boarding when neighbours were at work, and denied causing disruption.
The council ruled he had breached planning laws and ordered him to dismantle the ramp.
Mr Salitura appealed to the Scottish Government in a bid to save it but the government has sided with the council.
He had hoped a "sit-down conversation" with objectors to his half-pipe would help solve the issues.
In a letter to the government, he said: "I believe if the ramp is causing anyone concern, a discussion about this will surely be beneficial in a manner to appease any concern.
"As mentioned in my documents, the mini-ramp is used as a way of exercising and for enjoyment.
"It is not used as a base to intrude on neighbours or used in any manner as some sort of 'decking'.
"The use of the ramp is not continuous and when in use, it is always within a reasonable hour or on my one day off from working.
"I use the ramp during the day when a majority of people are at work and children at schools, therefore minimising any disruption.
"I believe a sit-down conversation highlighting this will support the case and assist anyone in understanding the use of this ramp."
Fife Council wrote to Mr Salitura saying: "It is plainly visible from neighbouring gardens, being higher than surrounding boundary treatments, and the combination of its height and 'homemade' appearance serve to enhance its harmful impact on neighbouring amenity.
"The height of the platforms is such that neighbouring privacy is unacceptably reduced, as anyone using the ramp will be plainly visible from neighbouring houses and gardens as well as being able to overlook neighbouring houses and gardens."
Government reporter Amanda Chisholm said: "While I acknowledge the kit included pre-cut joists and pre-drilled boards, in my view, the size and complexity of the structure indicates that its assembly and installation involved building operations, however minor these may have been.
"In consequence, I find that the mini-skateboard ramp constitutes development."
She added: "I dismiss the appeal and direct that the enforcement notice be upheld."