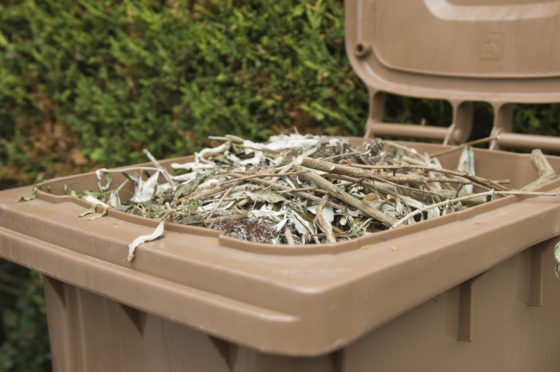 Householders could have to pay to have their garden waste uplifted as Fife Council faces a funding gulf.
The introduction of a £35 annual fee is among a list of cost-cutting options drawn up by local authority officers.
Garden waste is currently collected for free, with food waste, in domestic brown bins.
If the proposal is implemented, people would pay for the service, saving the local authority an estimated £1 million a year.
Liberal Democrat leader on the council, Tim Brett, warned the charge would see less garden waste recycled and more dumped in landfill.
He also said there would be less fuel for the council's anaerobic digester near Dunfermline, which converts food and garden waste into electricity for the national grid and heats local buildings.
The Tay Bridgehead councillor said: "We are already concerned that the recycling rates in Fife, which were some of the best in the country, have slipped and I think they would slip further if this was introduced.
"We should be encouraging people to recycle and Fife has invested in the biodigester in Dunfermline which is where the green waste goes. I suspect there will be less green waste going into the biodigester which saves money for the council."
The garden waste collection charge is one of dozens of savings proposals officials have drafted for consideration by councillors.
Elected members will decide which of the options to take forward as the council faces a massive £82.5m funding gap over the next decade.
A document seen by The Courier acknowledges the charge would initially be unpopular with the public and that co-mingled food waste would be an added complication.
However, it states such levies are commonplace in England and have already been introduced in other parts of Scotland.
From March next year Dundee City Council will charge £35 for permits enabling residents to continue using the garden waste uplift service. Angus and Perth and Kinross councils already charge at a lower rate.
Ken Gourlay, Fife Council head of service, said: "There's no let-up in the financial challenge facing councils and all services are already planning ahead and have been asked to plan for future savings.
"As we do every year, we have to put forward savings options for political groups to consider before they publish their final proposals for a budget.
"All services are expected to put forward savings options and we are still discussing the implications of these.
"Some of them might not be what we'd like to do but at this stage we have to put every option on the table."