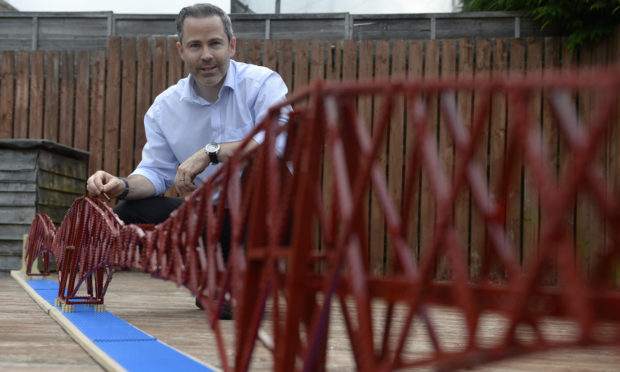 A civil engineer who built a giant Lego model of the Forth Bridge wants to see his creation replicated as an official set by the toy manufacturer.
Michael Dineen, who spent four months painstakingly creating the World Heritage site in plastic form, is asking fans of the iconic rail bridge to vote for his model online.
He needs 10,000 votes for his design to be considered as a Lego Ideas set and he already has more than 1,300.
The 41-year-old used around 3,000 bricks and a vast degree of trial and error to build the 15-foot long model, which stands almost a foot tall.
He said he found the process very rewarding.
"I built my bridge out of pride and passion," he said.
"I'm incredibly proud to live in a country that is home to one of the greatest and most iconic structures around the world.
"I love to educate and inspire others about civil engineers and have built this model to do just that.
"With few Lego bridge sets currently available, I see this as an opportunity for Lego to add a different offering to its fans."
Michael, who now lives in East Renfrewshire, spent two years living in South Queensferry in the shadow of the 1.4-mile long bridge.
"Many people are not aware just how long the bridge is in reality and just how slender it is in relation to its length," he said.
"I found it very rewarding to design something so unique."
Every element used in the design is an existing, official Lego piece but just like with the real Forth Bridge, there was a lot of painting involved.
"I had to paint the pieces used for the bridge deck, the hinges and ball joints all in dark red," he said.
If taken on as a Lego set, each box would contain one main tower, both sides of the balanced cantilever, two halves of the suspended section, the deck and one small end tower.
"Not only is it immense fun to build, but it would complement a shelf in any room in the house," Michael said.
The 129-year-old bridge is not the father-of-one's first ambitious Lego creation.
Last year he built a model of the Still Game set but it could not be taken on my Lego due to rights issues.
This year he is hoping for enough support to see his idea on sale and people can vote online at ideas.lego.com
Lego has given the design it's backing, saying: "Best of luck as you continue to rally support for your project."