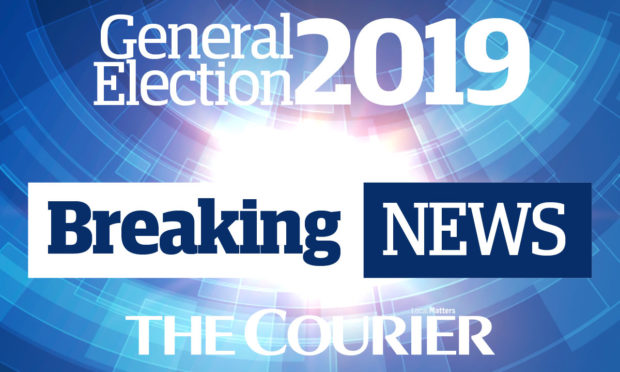 The Scottish National Party looks set to retain both the Glenrothes and Dunfermline and West Fife constituencies, meaning a return to Westminster for both Peter Grant and Douglas Chapman.
Last night's exit poll forecast a 99% chance of the SNP holding both the seats.
With turn outs in parts of the region as high as 84%, Mr Chapman is expected to significantly increase his 844 majority gained in Dunfermline and West Fife in 2017, with party activists confident of success.
Speaking ahead of the declaration, Mr Chapman said the high turn out was a good sign for democracy that people are prepared to go out and cast their vote.
He added: "Some of the conversations we have had on the doorstep have been really quite intense, not in an argumentative way, but I think people have been really struggling with understanding what's going on and how they should cast their vote in the best direction."
If body language is an indicator of the likely result, Labour were having a poor night with an air of despondency among its ranks.
Cara Hilton, the former Dunfermline Labour MSP who in 2017 came second to the SNP by 844 votes, is expected to be well beaten this time round.
Standing for the Liberal Democrats in Dunfermline and West Fife was Rebecca Bell and for Conservative, Moira Benny. Mags Hall was the Scottish Greens candidate.
In Glenrothes, incumbent Peter Grant looks set to comfortably secure a third election success in the constituency he has held since 2015.
Mr Grant, a former leader of Fife Council and one time group leader of the nationalists in Fife, is expected to gain over 50% of the votes with Labour candidate Pat Egan and Tory Amy Thomson left floundering.
Liberal Democrat Jane Ann Liston, who has previously stood as a candidate in Glenrothes, and former Brexit Party turned independent candidate Victor Farrell, who was dropped by his party after posting homophobic messages on social media, bringing up the rear.
"I've learned a long time ago not to trust exit polls and predictions but it is developing into a good night for the SNP," said Mr Grant.
"On the doorsteps we've found that many people already had a clear mind as to how they wanted to vote with Brexit and a clear dislike of Boris Johnson being key factors.
"Our supporters have been really motivated but we also found that voters, not necessarily SNP voters, have also had a clear mind and the confidence to vote for us."
Mr Grant is expected to significantly increase his 3,267 majority he gained in 2017.