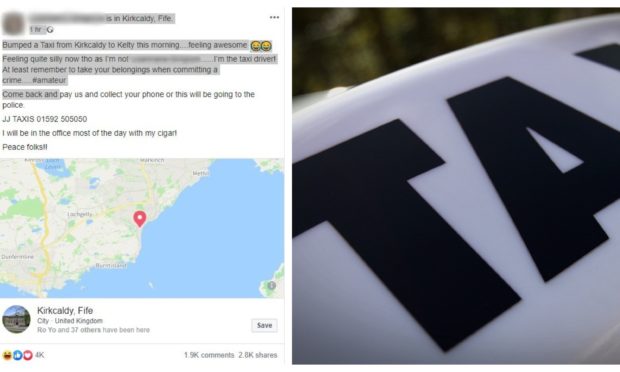 A taxi driver's revenge on a passenger who absconded without paying went viral.
Kirkcaldy-based JJ Taxis used the runaway's mobile phone, which she left behind, to post a humorous message on her Facebook profile.
Before it was taken down only an hour later the post had received almost 2,000 comments, with people poking fun at the fare-dodger.
The woman made her getaway in Kelty.
People also posted jibes about taxi-bumping on earlier posts she had made.
The woman – whose name we have withheld – was warned that unless she returned to collect the belongings she left in the private hire car, she would be reported to police.
The post by JJ Taxis on the woman's profile on Thursday afternoon said: "Bumped a taxi from Kirkcaldy to Kelty this morning. Feeling awesome.
"Feeling quite silly now tho as I'm not [woman's name]. I'm the taxi driver!
"At least remember to take your belongings when committing a crime. #amateur
"Come back and pay us and collect your phone or this will be going to the police.
"I will be in the office most of the day with my cigar!"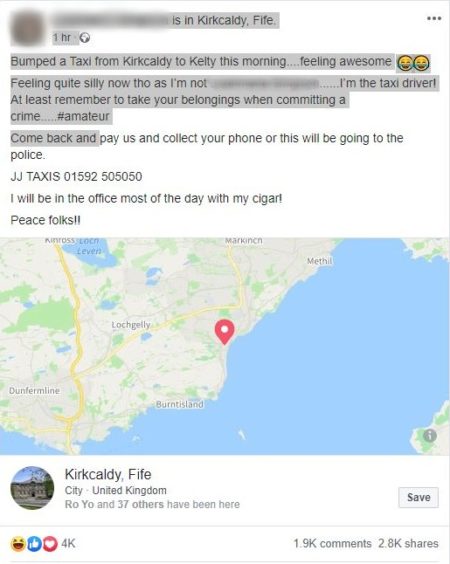 JJ Taxis was contacted by The Courier but the owner was unavailable for comment.