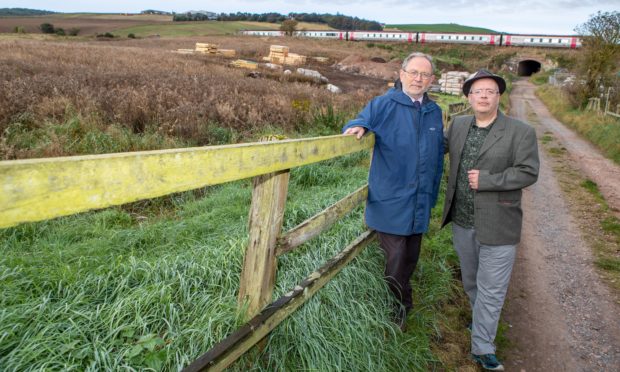 A housing development that will increase the size of a village beside the Tay by up to 40% has been approved by councillors.
Persimmon Homes has been granted planning permission to build 158 houses at Wormit Farm, off Kilmany Road, despite fears the scheme could overwhelm local services and roads infrastructure.
Tayview Medical Practice, said to be already oversubscribed and understaffed, would be particularly adversely affected by a population increase of more than 500 people, according to objectors.
In all, 82 people objected to the development – close to where a further 44 homes are already under construction – with many saying it was out of character with the existing village and would destroy the landscape on the southern approach to Wormit.
Planning officers recommended it be approved subject to a number of conditions however, saying the land was zoned for housing in the local development plan.
Case officer Alex Laidler told North East Fife Planning Committee that Persimmon Homes would be required to contribute to the £600,000 cost of a two-classroom extension at Wormit Primary School and to work to increase capacity at the new Madras College in St Andrews.
He said Fife Council could not request contributions towards GP practices from developers.
The affordable housing portion will comprise of 50 houses and will be taken on by Kingdom Housing Association for rent, with legislation preventing them from being sold on the open market.
Mr Laidler pointed out the 158 homes proposed was 17% higher than the 135 for which the site was zoned but said the increase could be accommodated without "significant detriment".
He said: "The design, scale and layout of the development is acceptable for the location having had regard for the character of the area.
"The application proposes a development which is sustainable in terms of transport links, is permeable and well connected and one which creates a sense of place in terms of character, detailing materials and landscaping."
Taybridgehead Liberal Democrat councillor Jonny Tepp moved the application be refused due to "an excessive number of houses" which, he said, would swamp the existing village.
He was seconded by SNP member Bill Connor.
However, SNP councillor Karen Marjoram, seconded by Liberal Democrat Bill Porteous, moved it be approved and permission was granted by seven votes to four.