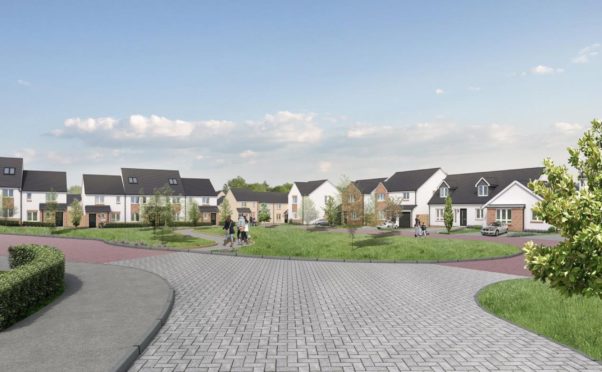 Developers behind £19 million plans that will change the face of the Wormit area say more than 630 jobs will be created through the development.
Councillors have given the green light to Persimmon Homes North Scotland's planning application to create 158 homes off Kilmany Road, following the first phase of the Naughton Meadows project that saw more than 40 houses built.
158 new homes given go-ahead for Wormit despite fears village will be swamped
Concerns were aired by locals in relation to the 13-acre greenfield site, with 82 people lodging formal objections suggesting the already over-subscribed Tayview Medical Practice would not cope, the development would be out of character with the village and it would destroy the landscape on the southern approach to Wormit.
With consent secured, Stephen Profili, managing director of Persimmon Homes, has moved to persuade members of the public the development is good news for the region and will provide a huge boost for the economy.
"We are delighted with the decision made by the planning committee to approve our plans.
"Our continued investment signals our commitment and confidence in the local housing market.
"The ongoing demand for high quality new homes in the area more than justifies our decision to move forward with a second phase in Wormit.
"This will obviously be good news to house buyers in the region, particularly those looking for spectacular views of the Firth of Tay, but the spin-off benefits in terms of the number of jobs being created and the income this will generate for the local economy are also hugely significant."
In addition to the investment in the new homes, Persimmon Homes has also agreed a Section 75 contribution of £740,000 to boost education facilities including a two-classroom extension at Wormit Primary School and an extension to Madras College.
"This second phase also incorporates a higher than average 32% of affordable homes – namely 50 – and a number of aesthetically pleasing features including a central green space and walking paths that connect the development with the existing village pathway."
Mr Profili also confirmed that work on site is expected to start in April 2020 with homes available for sale in July 2020.
Members of the planning committee approved the development by seven votes to four earlier this month.
Fife councillors call for Holyrood to force developers of big schemes to pay healthcare costs