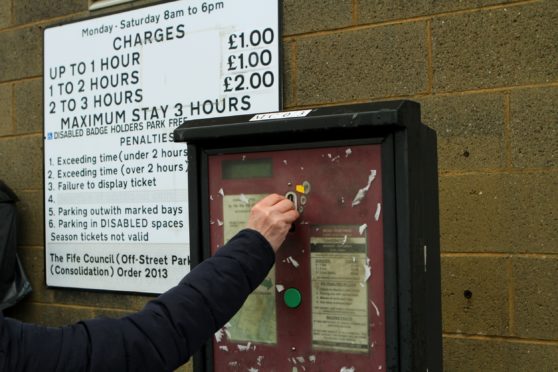 Free off-street parking on Sundays is to be trialled in Kirkcaldy for six weeks in an effort to increase the number of people visiting the town centre.
Fife Council's Kirkcaldy area committee has decided to use £28,000 it has been given from the local authority's coffers to fund the scheme, from February 23 up to and including March 29.
The discounted all day parking season ticket, which was launched in the town last October, will also be extended until the end of this year, meaning motorists can use certain car parks for less than £1 per day.
Councillor Neil Crooks, convener of the committee, said parking had emerged as a key concern in the ongoing placemaking consultation, which is seeking local people's views on the issues that matter most to them.
"We're listening to what we're being told and, as promised, we're doing something about it," he said.
"We can see from the initial pilot that the discounted season ticket is benefiting those who work in the town centre, students and regular visitors. People are buying the ticket to get cheaper parking and direct access to the heart of the town.
"We also want to give people choice, so anyone who wants to buy the existing car park season ticket for £130 per quarter can still to do so."
He said an advantage of the season ticket was that drivers can use it in any of the long stay car parks throughout Kirkcaldy and the rest of Fife. However, the committee, was particularly keen to do what it could to boost trade in the town centre.
"Last year, we said that we'd keep looking at other car parking measures and, as part of our commitment to this, we're also providing free off-street parking to anyone coming to the town centre on Sundays from the end of the month until the end of March," said Mr Crooks.
"We hope that by using the £28,000 to trial these different parking options we can get a better idea of what we can, and must do, on a more regular basis to breathe life back in to the town centre."
The discounted season ticket, which is £60 a quarter, can only be used at selected car parks, namely the Kirkcaldy Centre (formerly the Postings), the Esplanade car parks A and B, Hill Place, and the multi-storeys.
Applications for a season ticket can be made via www.fife.gov.uk/carparkseasonticket or over the phone by calling 03451 55 55 55 extension 480208 between 9am and 4pm.