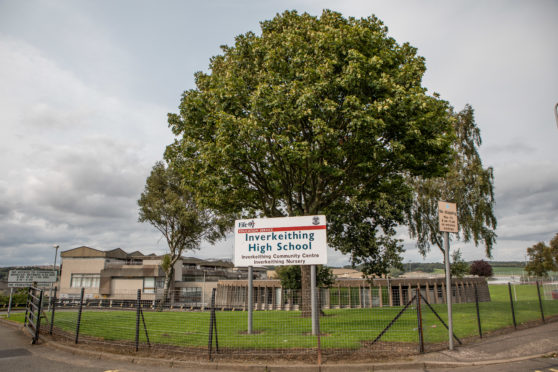 Councillors have called for community facilities at Inverkeithing High School to be saved when the school shuts its doors.
The section known as the Wing includes the area's only public swimming pool and there are fears for its future when the school is replaced.
A new secondary school is plenned to replace the current Inverkeithing school, with land in the town north of A921 and at Rosyth's Fleet Ground pinpointed as potential sites by Fife Council.
Redevelopment of the current location has been ruled out.
The council's south and west Fife area committee has now backed a motion raised by Conservative councillor Dave Dempsey urging education officers to consult local councillors and the community manager on measures to preserve the Wing.
Mr Dempsey said: "The intention is to give reassurance to the people of Inverkeithing that, given the existing school site is no longer a candidate for the new school, we are not going to forget it" said Mr Dempsey.
In the motion he asked the committee to note "the concern within Inverkeithing about the future of the existing site, particularly given the history of the site of the former primary school."
He added: "The Wing is a highly prized facility making a significant contribution to the regeneration of the area."
Since it was closed in 2006, the town's old primary school in Roods Road has been targeted by fire-raisers and was completely gutted by a blaze in 2018.
The motion, seconded by Mr Dempsey's Conservative colleague Dave Coleman, was backed by the committee.
Councillor Alice McGarry, the committee's SNP convener, said: "It's the only publicly available swimming pool in the whole of south and west Fife, so we don't really want to lose that pool."
However, the committee heard the Wing's future funding would have to be clarified.
Community manager Alastair Mutch said: "There are shared costs and it is difficult to ascertain what service pays what for utilities. The budget lines are somewhat blurred."
Conservative councillor Tony Orton said: "There's going to be a point in the future when education is going to try to hand over the asset.
"It would worry me if we're a bit airy-fairy about who actually funds it, if education at some point in the future wants to offload the site."
Building a new school at the current site on Hillend Road was ruled out because it would require decanting pupils. There were also issues with the building's B-listed status and the fact it contains asbestos.
After lengthy discussions, the shortlist of sites was whittled down to the two to the north of the A921, across the road from the existing school, and at Rosyth Fleet Grounds.