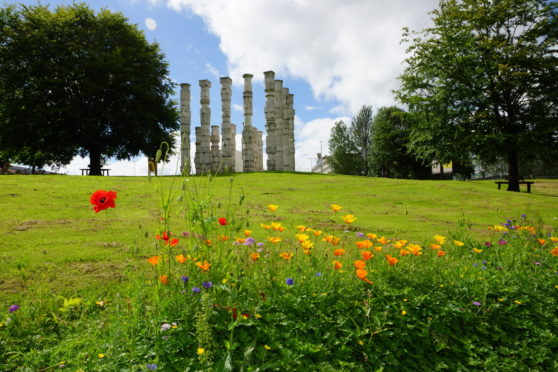 Riverside Park in Glenrothes could boast new play equipment and a visitor centre as part of a decade-long action plan to transform the beauty spot.
Local councillors have agreed a wish list of measures, including a centre with a cafe, toilets and space for family activities, as well as better play areas for children and a full programme of events to draw people in.
However, Glenrothes area committee was told there was "no multi-million-pound budget to transform the park" and that funds would have to be raised.
It is hoped the improvement plan endorsed by councillors will strengthen any bids for funding.
The committee's SNP convener Fiona Grant has been appointed to "champion" the park.
She said: "We have just finished a multi year project looking at all of our play parks and I was keen that the committee focused on the park next. The 10 year plan gives a vision of where we would like to be.
"To get started on making this real, officers have been asked to bring back specific projects for the next two years in September with costs so that we can look for funding.
"I am delighted to have been appointed as champion for the park and look forward to even closer links with Friends of Riverside Park."
The park was zoned when the town of Glenrothes was laid out in 1948.
It covers 128 acres and one of its main features is the River Leven, which flows through the park.
However, local residents have complained that the river banks have eroded and the water has become a dumping ground for shopping trolleys.
People who use the park have also flagged up the lack of toilets and wheelchair access and said lighting could be improved and bins better located.
According to the feedback received by the council, visitors would welcome sensory gardens, play areas and barbecue facilities.
Fife Council greenspace officer Kevin O'Kane said the park could be a major attraction, but a lot of work was needed.
"The vision for the park is a destination for the people of Glenrothes and beyond – a park people feel very welcome to visit, an attractive place, with lots of ways to be active," he said.
A spokesperson for the Friends of Riverside Park (FORP) group said: "We hope this positive vision of the park comes to pass as this is a unique green space so close to two town centres.
"FORP needs more local people who care about the park to join our group and make sure the park continues to improve."
Multi-million pound Glenrothes development will see park extended and new green routes