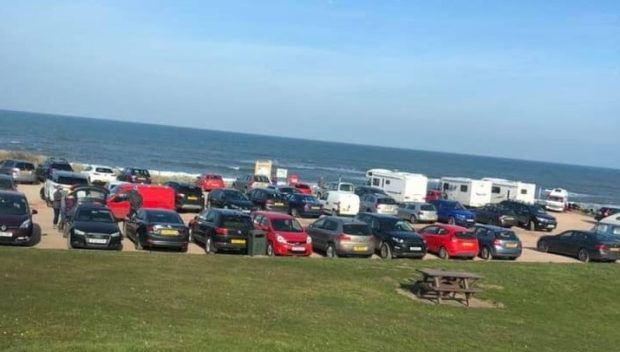 Calls have been made for a lock-down of the East Neuk of Fife  during the coronavirus crisis amid concerns about the numbers of second home owners flooding into the area over the weekend to 'self isolate' and concerns about the number of camper vans pitching up at local beauty spots.
One resident who got in touch with The Courier described the situation as "madness" as she raised fears about the potential risk of the extra numbers spreading coronavirus and additional pressures on local shops and health services.
"Though I wouldn't want to be cooped up in London, Edinburgh or Glasgow, the risk of Covid spread and additional pressure on services here must be increased by this,"the resident said.
While some people took to social media to express sympathy with businesses trying to make money, concern was also expressed about the volume of camper vans pitching up at the likes of Elie and Kingsbarns beaches in defiance of 'no overnight parking' signs.
One woman took to Facebook to say:"Stay in your own communities where the services reflect the occupying population instead of putting pressure on small communities which will already be struggling with the current situation. The government has asked citizens to avoid unnecessary travel – going to your holiday home is not a necessity!"
However, a holiday home owner said: "Movement restrictions are not in place. No one can stop you coming to your own home."
It's also understood many 'local' day trippers visited the area to take advantage of the fine spring weather.
Nicki Storrar of Ardross Farm Shop at Elie took to Facebook to express concern about the "volumes of people who are still out and about" and especially coming into their shop.
She said: "We are trying to take care of the welfare of our staff but the sheer volume of people coming through the doors is making that quite hard."
They have now put a limit of five people into the shop at a time and brought in several other measures to make the shopping experience more comfortable.
Crispin Willis who runs a shop in Crail also commented on the pressures being put on local businesses. He said: "Utter disregard for space…by hoards of tourists who have seemingly thought they are off work to go to the seaside!"
Dr Angela Anderson, Elie resident and chair of the St. Andrews Out of Hours Group told The Courier she wanted a "lock down" of the East Neuk. She said: "The East Neuk has the highest proportion of over 65s in Fife. At the same time healthcare provision here is stretched at the best of times, with persistent difficulties accessing GP appointments in Anstruther, ambulance waiting times that are double the government's target and an out of hours service which still often requires long trips to Kirkcaldy.
"We should be doing all we can to protect our oldest and most vulnerable residents. We would like to see NHS Fife calling for a lock down in the East Neuk with a ban on all non-essential travel."
East Neuk and Landward Fife councillor Linda Holt told The Courier the risks and concerns were "huge" in many ways.
She said: "It's dangerous and scary, not just in the sense that there is an influx of people into an area with already stretched health resources and an exceptionally high proportion of older residents, but because of the anti-outsider mob mentality fear of the virus is unleashing in social media.
"The government needs to act and make a lockdown mandatory – at the moment many people are treating social isolation and the advice to avoid non-essential travel as a lifestyle choice."
Councillor Holt said that there was also increasingly an issue about people being out with/without dogs and not practising social distancing.
This was particularly an issue on the Fife Coastal Path where concerns had already been raised about litter bins filling up faster than usual and toilets being used more.
Responding to concerns on Sunday, North East Fife MP Wendy Chamberlain also took the unprecedented step of urging non-permanent residents of the East Neuk area not to visit during the coronavirus crisis.
She said:"I've had a number of constituents in touch regarding lots of additional visitors in the East Neuk this weekend.
"This clearly isn't just a Highland and Islands issue. Please, if you aren't a permanent resident in the area, don't visit.
"Local businesses are struggling to cope, and are concerned that this will prevent more vulnerable residents from getting what they need.
"Although confirmed cases of Covid 19 are currently low in Fife, this will change.
Local health services are not designed to cope with large numbers and will quickly become overwhelmed. We all need to act responsibly to protect everyone's loved ones."
North East Fife MSP Willie Rennie said it was "essential" that everyone adheres to advice from the NHS about social distancing and good hygiene. He called on visitors to the East Neuk to return home.
"Please do not overcrowd the shops," he said.
"Secondly, please only buy what you need from local shops. Buying too much may prevent others getting what they need.
"Thirdly, if you a holidaying here we want you to enjoy the beautiful East Neuk today but it would be best if you were to return home tonight where you can access your local health services if you need them.
"We are concerned that our local health services may not be able to cope if the population swells.
"Finally, if you have a campervan or mobile home please only use official designated sites as unauthorised sites often do not have local services and can therefore cause wider issues."
The concerns in the East Neuk come as the Scottish government urged people to stop travelling to the Highlands and Islands in a bid to avoid coronavirus, following reports of an influx of self-isolators and people in camper vans travelling to the area in recent days.
In a strongly worked statement issued on Saturday night, Holyrood's rural economy and tourism secretary, Fergus Ewing, described himself as "furious" at such irresponsible behaviour and warned that he would discuss with ferry operators and other agencies whether further restrictive measures were needed to halt the inundation.
There was an element of confusion and accusations of mixed messages on Sunday morning, however, when Professor Jason Leitch, the Scottish Government's National Clinical Director said during an interview on BBC Breakfast that if people had pre-booked holiday cottages or caravans in the Highlands and Islands over Easter then it was okay to still travel.
The Scottish and Westminster governments have already said that all "unnecessary travel" should not take place.