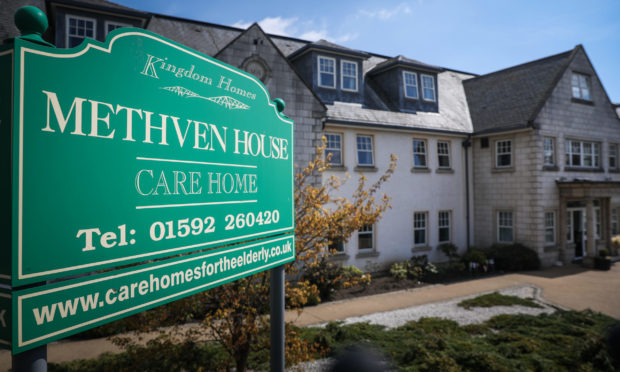 An MSP has called for full transparency amid claims at least 16 residents in a Fife care home have died of suspected coronavirus.
A number of deaths at the 60-bed Methven House in Kirkcaldy are being linked to the covid-19 pandemic, days after it was revealed more people are now dying in Scotland's care homes than in hospital.
Methven House operator, Kingdom Homes, which has 12 homes in the region, has refused to comment on the tragedy and Labour MSP Alex Rowley said information on the exact number of cases there was proving difficult to ascertain.
He has now raised concerns specifically about the situation at the Bennochy Road facility with Fife's public authorities, along with fears about the support available for care homes generally.
"I have been contacted anonymously by people telling me there is a high number of deaths in that care home and staff are frightened.
"There is a public duty to ask questions but it is difficult to get answers.
"I certainly want to know what support and protection is in place for these homes and I am calling for full transparency."
He said a full assessment should be carried out into social distancing measures and the availability of personal protective equipment (PPE) for staff at all care homes since the start of the pandemic.
Kirkcaldy SNP MSP David Torrance, a member of the Scottish Parliament's health and sport committee, said care home staff are working under tremendous pressure but openness is vital.
"We need to be open and transparent for the sake of public confidence.
"Once the virus is inside a home it will spread far more quickly than it does in the wider community, simply due to the structures in place and the obvious need for staff to be close to residents in order to effectively care for them.
"That is why it is extremely important that we continue to look at all measures available to us to ensure the virus never enters in the first place."
Labour councillor David Graham, Fife Council's health and social care spokesman, could not confirm the number of deaths in individual homes but said protecting the health of residents and staff was of the highest priority.
"The health and social care partnership is working very closely with public health to ensure support from our care homes in Fife.
"When residents become ill medical advice is sought and in some cases residents are transferred to hospitals for treatment while others remain within the familiarity of the care home, where they care cared for based on their individual needs and specialist medical and public health advice."
According to Scottish Government figures, 38 of the 352 deaths in Fife's care homes up to April 26 were due to coronavirus.
The Care Inspectorate said it was notified of all deaths in care homes but could not provide figures for individual facilities.