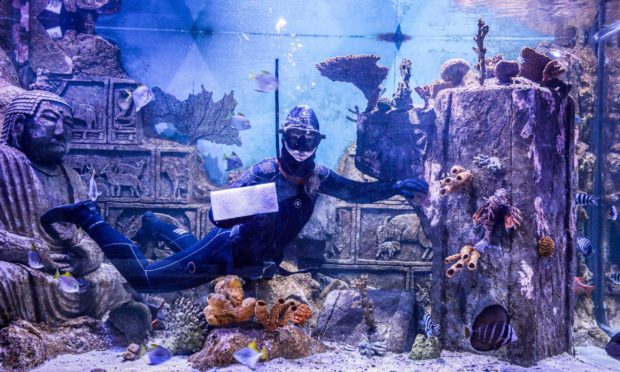 Two well-known aquariums have called for financial support to help them survive lockdown.
Deep Sea World in North Queensferry and St Andrews Aquarium say they are struggling to keep going due to the ongoing costs of looking after their animals while they are closed.
Deep Sea World alone is spending around £90,000 a month on maintaining its tanks and pumps and feeding the many species housed there.
Zoos and aquariums in England can apply for grants of up to £100,000 but the fund does not apply in Scotland.
Deep Sea World general manager Adrian Duffey said staff could not be furloughed due to the specialist nature of their work and revealed its nine sister aquariums across the UK are in a similar position.
"This is an extremely worrying time for our business," he said.
"Due to the nature of the work we carry out to maintain the highest of animal welfare standards, we cannot furlough all of our staff and bring in volunteers.
"We have taken steps to apply for a Coronavirus Business Interruption Loan but this means the business taking on significant debt which has to be repaid over a short period."
Mr Duffey said he hoped zoos and aquariums were part of the UK Government's strategy for lifting lockdown.
"I fear we could be the last to open, which would be at an incredible detriment to our business," he said.
John Mace, who runs the family-owned St Andrews Aquarium,  said he had been turned down for support from a Scottish Government reslience fund.
"Due to no fault of our own we are struggling to survive until lockdown is lifted," he said.
"As a successful local business providing for the economy and carrying breeding programmes for endangered species, we are also a valuable environmental and public service.
"The government support is there to help businesses exactly like ours and all we wish to do is receive the support needed to reopen when it is safe to do so."
North East Fife Liberal Democrat MP Wendy Chamberlain has written to Scottish finance secretary Kate Forbes asking for help, while Dunfermline SNP MP Douglas Chapman called on the UK Government to introduce measures to protect workers needed to maintain animal welfare standards.
A Scottish Government spokesman said: "We absolutely recognise the importance of the leisure economy and acknowledge that it has been impacted by this crisis and previously profitable businesses have seen demand dry up overnight.
"We are working to provide support to help alleviate the hardship those companies are facing, including through the Creative, Tourism and Hospitality Enterprises Hardship Fund, which offers funding up to £25,000 to help companies manage cash-flow commitments."