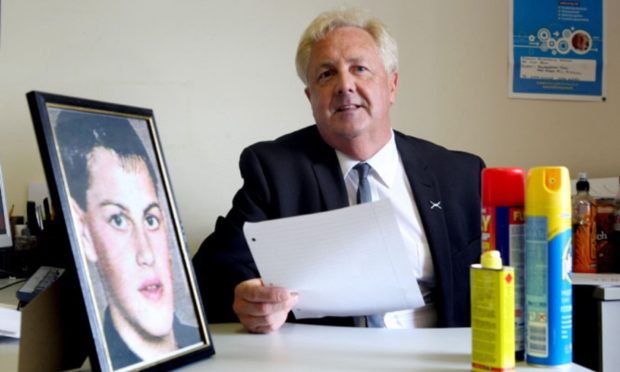 A Fife councillor whose son died from solvent abuse is calling for more restrictions to be put on the sale of nitrous oxide canisters.
John O'Brien, who represents Buckhaven, Methil and the Wemyss villages, has been campaigning for tighter controls on solvents since his son Lee died aged just 16 after inhaling lighter fuel in January 2002.
The Lee O'Brien Solvent Trust (LOST) was formed in his memory and achieved success over the years in raising awareness of the issues and seeing test purchasing introduced across Scotland.
SNP councillor Mr O'Brien said he was alarmed by reports about the popularity of so-called laughing gas.
He said inhaling solvents was like a game of "Russian roulette" and urged people not to take the risk.
"People don't realise that the human body can react at anytime to solvents in unexpected circumstances, sometimes leading to accidental death," he said.
"Depending on the person, they may have a reaction, have breathing problems and choke, causing harm and sometimes death. Others may have heart issues leading to sudden death.
"Others may be lucky and nine times out of 10 may walk away unharmed after experiencing a small rush to the brain known as a quick high. But sooner or later someone will pay the price with their life.
"It's like Russian roulette: one bullet, spin the barrel and pull the trigger. See how lucky you can be."
Mr O'Brien said he had seen many of the telltale signs of nitrous oxide use in and around his ward and believes action is needed now to raise awareness of the risks and curb their sale.
He said he had known people who have sniffed solvents for years and have not come to harm, whereas others try it once and die.
"Is it worth the risk?" he asked.
"My son played that game and at 16-years-old he died. There's your evidence."