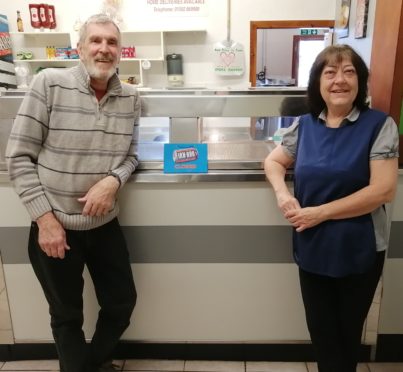 The proprietors of an award winning Fife chippy are hanging up their pinnies after serving the community for nearly a quarter of a century.
Ginny and Chic Snedden ran Barry's Fish Bar in Ballingry for 23 years and said the pandemic was a factor in their decision to retire.
Having closed up in March because of lockdown a buyer came forward and the chip shop is now under new ownership.
"I really will miss it," said Ginny, 61.
"We've been there that long that the children in Ballingry have all grown up and some of them have had children who are teenagers now.
"It's been great."
Barry's Fish Bar, which was named after the couple's son, was awarded the accolade of "best chippy chips" in Fife for two consecutive years.
Ginny said running a chip shop was "in the blood" because her grandfather ran a chip shop in Burntisland many years ago.
It was while working in the chip shop that her parents met.
"They ended up getting married and running the chip shop for several years."
She added that she would like to travel but will have to wait, with Chic, 64, shielding during the coronavirus pandemic.
"I'd say the pandemic pushed us in the right direction and made us realise it was time to hang up our pinnies.
"I'll be pottering around the garden and hopefully in a few weeks' time will get to see a few more relatives."