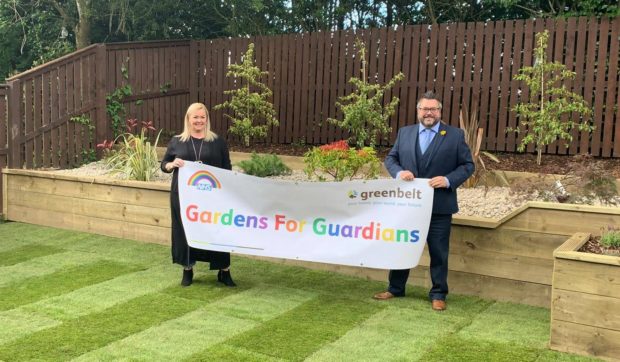 A Dunfermline nurse has had her garden transformed after being nominated by neighbours in Greenbelt's Gardens For Guardians campaign.
Annie Haslam, who is married with two teenage children, was chosen as a winning finalist by Greenbelt because of her work as a senior charge nurse at Kirkcaldy's Victoria Hospital, where she helps manage 11 operating theatres.
The free garden upgrade campaign was set up by the land management company to say thank you to NHS employees.
Annie, who has worked for the NHS for 29 years and lives in Greenbelt's Mid Duloch development in Calais Muir, said: "During Covid-19 my working week increased and day and night shift patterns often meant the days in between were just about readjusting before the shifts started again.
"We've totally adjusted how we work and it's part of our role to deal with Covid-19 patients on a daily basis, as theatres, in effect, became ICU and high dependency units. Fortunately, with the situation improving, my hours have returned to more normal.
"We've lived in Mid Duloch for 17 years and the best thing about it is the neighbours and friends we've met here. It's a close-knit community, with many having moved in from the start as we did.
"I'm just so grateful and overwhelmed they've gone to the trouble of nominating me. It's an amazing feeling to be part of the NHS during these difficult times and to feel so appreciated, along with many other key workers."
She said: "We cannot express our thanks enough to Greenbelt and the great team who did the work.
"They finished it in less than a week, working through some horrendous weather on a couple of days and have done a great job.
"It has turned a space we didn't use into somewhere we'll now spend a lot of time as a family but also with our great neighbours as restrictions ease."