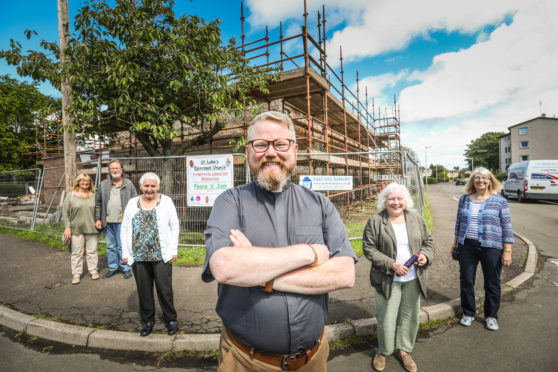 The easing of lockdown restrictions has given the green light for work to finally begin on the transformation of a Fife church into a social hub and community cafe.
The £425,000 project, which will transform St Luke's the Evangelist, Scottish Episcopal Church in Glenrothes, was due to start in March.
The church has served as a place of worship for local people for the last 60 years, since the early development of the former new town.
Fiona Munn, vestry secretary, said everyone is delighted the work can now finally start in earnest to transform the church.
When complete, it will benefit around 500 residents in the Auchmuty area of Glenrothes, as well as creating 20 volunteering opportunities.
She said: "It's such relief to be able to finally get contractors, who were about to start building work when the lockdown was announced, under way.
"The initial building work is expected to be completed by the end of November and then we'll be looking to refurbish the interior.
"Obviously we have had to meet the ongoing and constantly changing social distancing requirements but we on track to be up and running and supporting the local community early in 2021.
"The improvements mark the start of a new era for St Luke's in Glenrothes and its role within the town and we can't wait to get going."
St Luke's was the largest of three community support projects to benefit from £600,000 of Lottery Cash, receiving £375,235 to run its Peace 'n' Jam café for the next three years, while funding from Fife Environmental Trust and the Scottish Episcopal Church has also helped to make the redevelopments a reality.
The cafe will run throughout the school holidays, allowing breakfast clubs to continue and providing meals to families who would have been in receipt of free school meals during term time.
It will also provide a base for a monthly youth cafe for local youngsters, cookery workshops for young parents and support for vulnerable and at-risk families.