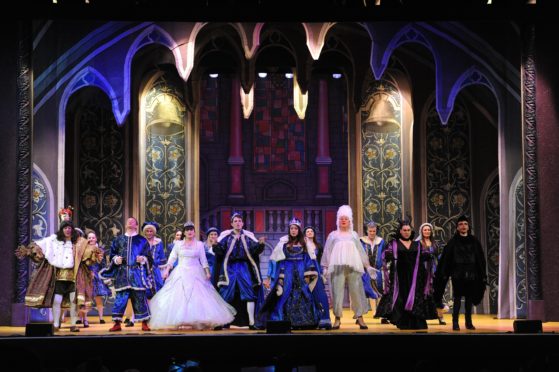 Theatre bosses across Fife are remaining in good cheer, despite seeing most of their schedules – including the lucrative pantomime season – wiped out due to Covid-19.
The pandemic has had a devastating impact on the arts and plans for all three of Fife's main festive pantos in Kirkcaldy, Dunfermline and St Andrews have now been shelved.
The cancellations will have a huge financial effect on the venues, as well as depriving parents and youngsters of a festive tradition enjoyed by generations.
Simon Fletcher, general manager of Dunfermline's Alhambra Theatre, said the plan was to come back even stronger after the Alhambra Theatre Trust confirmed this year's pantomime Cinderella would not go ahead.
"This has been a very difficult time for all, so we are excited now to come together and begin to plan for a new future," he said.
"We hope that the easing of restrictions will continue on its current trajectory and allow the theatre and some amazing guest artists to do what we do best.
"Since our opening 13 years ago we have welcomed over 1.7 million through the doors.
"This enforced hiatus has only strengthened our resolve to come back better than ever, and we look forward to a day very soon when we can open the doors once again and bring the best of entertainment to the people of Dunfermline and Fife."
A series of socially distanced fundraisers are being planned for the coming festive season, with more details expected in the coming months.
ONFife, Fife's Cultural Trust said plans for Snow White at Kirkcaldy's Adam Smith Theatre were also off. The panto is normally the year's biggest money-spinner for the venue, but an alternative "theatrical event" is being arranged to help people celebrate Christmas this year.
Kally Lloyd-Jones and Jessica Richards, joint directors at the Byre Theatre in St Andrews, confirmed the Byre's panto had also fallen by the way side for 2020, adding that the theatre's partners Bard in the Botanics were in "wholehearted, but heartbroken agreement" with the decision.
Gordon Barr, director of Bard In The Botanics and the writer and director of The Byre's panto since 2014, said: "Everyone at Bard in the Botanics is going to miss panto at The Byre terribly this year but, in the circumstances, this is absolutely the right decision.
"We want to share the Christmas period with a full auditorium, one that is packed to the rafters with families and friends having a brilliant time, and just now that isn't possible."