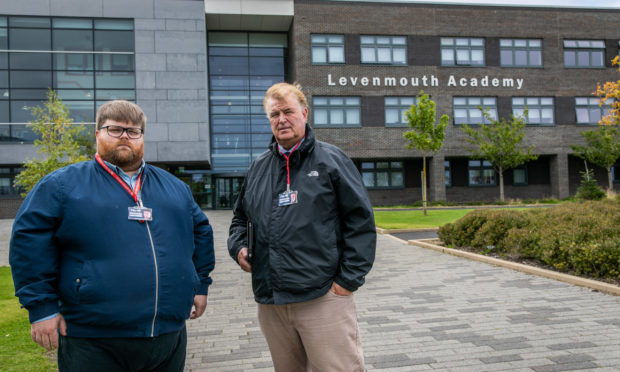 A furious row has erupted after Fife Council turned down government cash to help some of the region's most deprived school pupils – even though it had applied for it in the first place.
Officers have been accused of negligence after rejecting the £230,000 award from Skills Development Scotland to organise Foundation Apprenticeships for dozens of teenagers at Levenmouth Academy.
This is despite the fact the local authority had bid for the money to provide work experience for the third and fourth year students.
It blamed the decision on capacity issues caused by the Covid-19 pandemic and said it was seeking alternative opportunities for those involved.
Labour councillor Colin Davidson has called for an investigation however, claiming an opportunity to support young people with government funding had been lost.
"This is a huge injustice for some of the most deprived kids in the community and I'm absolutely furious," he said.
"This is bordering on negligence to our young people and it's scandalous.
"The kids were ready to go on the programme, which has already proven its worth in being able to turn young folks' lives around."
It is understood a group of S3 pupils had been due to start work with Buckhaven Community Trade Hub last Monday on a pilot programme run by Skills Development Scotland and the SQA.
It would have taught them technical skills, along with communication and self-management while they worked on a number of community projects, including improvements to Leven skate park and the creation of a boardwalk near the beach.
Older pupils are already involved in a business skills course with the hub through a separate Foundation Apprenticeship.
Mr Davidson said: "Not only have the young people lost out but the area has been denied the opportunity to have these facilities upgraded."
Mid Scotland and Fife Labour MSP Alex Rowley said he was absolutely astounded by the officers' decision.
"There needs to be a proper inquiry," he said.
"How can you turn down money going to one of the poorest areas of Fife to improve kids' skills, training and development?
"I can't understand that."
The council's head of business and employability Gordon Mole said he understood the disappointment but that the authority was still committed to improving employability opportunities for young people.
"Vocational training opportunities are vital ways for our young people to develop and learn, and we are committed to providing these in schools across Fife," he said.
"Unfortunately challenges and capacity issues due to the current pandemic have led to a decision not to support a possible bid to offer more places on a pilot FA this year.
"This proposal had not moved to any award stage and those pupils who had expressed an interest in taking places had  a full school timetable in place.
"Therefore, no funds had been received or handed back to Skills Development Scotland.
"We are now reviewing our capacity to deliver Foundation Apprenticeships where young people are restricted in their movement due to public health guidance, and are working with Skills Development Scotland to bring forward new models of delivery to meet the needs of youth employability across Fife. "
A spokeswoman for Skills Development Scotland confirmed Fife Council had bid for the money and was given "an intent to award" last month.
"Fife Council decided not to take forward that award," she said.