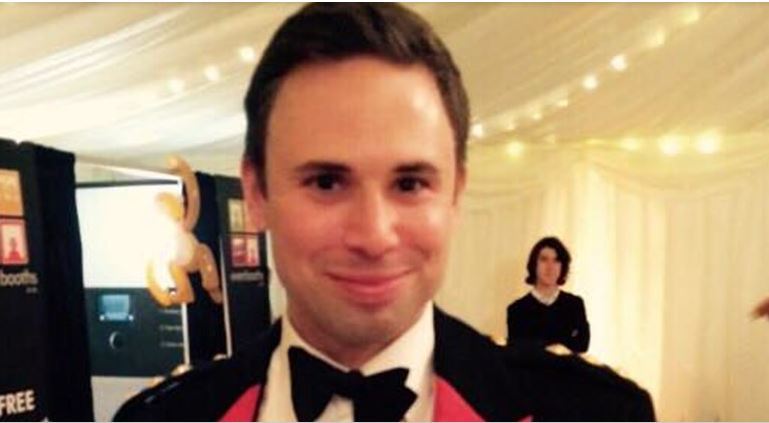 More than £140,000 has been raised in memory of an Afghanistan veteran and Green Beret who died after collapsing at the 23-mile (37 km) mark while running in the London Marathon.
Captain David Seath, originally from Cowdenbeath but based in Plymouth, Devon, was a fire support team commander in 29 Commando Regiment Royal Artillery.
The 31-year-old suffered a suspected cardiac arrest while running the 26.2 mile course on Sunday and later died in hospital.
Following his death, his friends and colleagues vowed to finish the marathon course for him and continue to raise money for his chosen charity, Help for Heroes.
More than £80,000 has been donated to a JustGiving page in memory of Capt Seath, while £60,000 has been raised for the charity on his own page.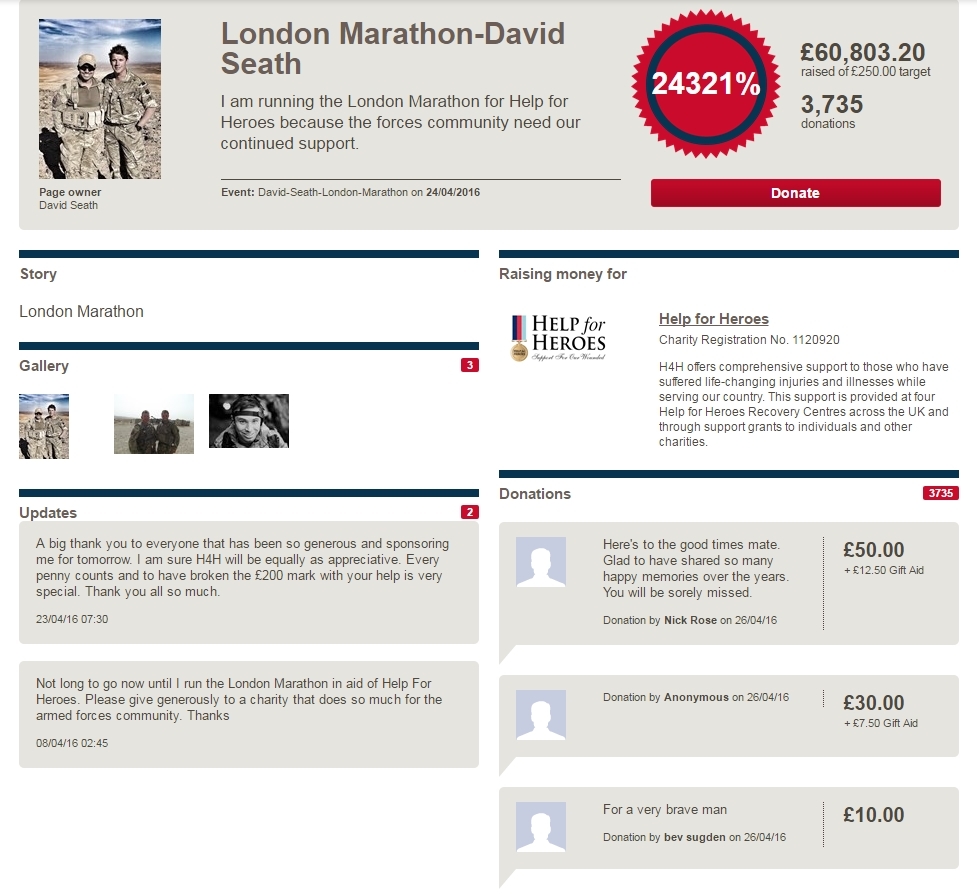 In a statement, Help for Heroes said: "We are devastated by the news about Captain David Seath.
"David was doing something extraordinary by running the London Marathon to fundraise and support his fellow soldiers who have suffered life-changing injuries and illnesses.
"Help for Heroes sees every fundraiser as one of Team H4H and our thoughts and prayers are with his family, his regiment and his friends."
The fundraising page in memory of Capt Seath was set up by Capt James Walker-McClimens of the 7th Parachute Royal Horse Artillery.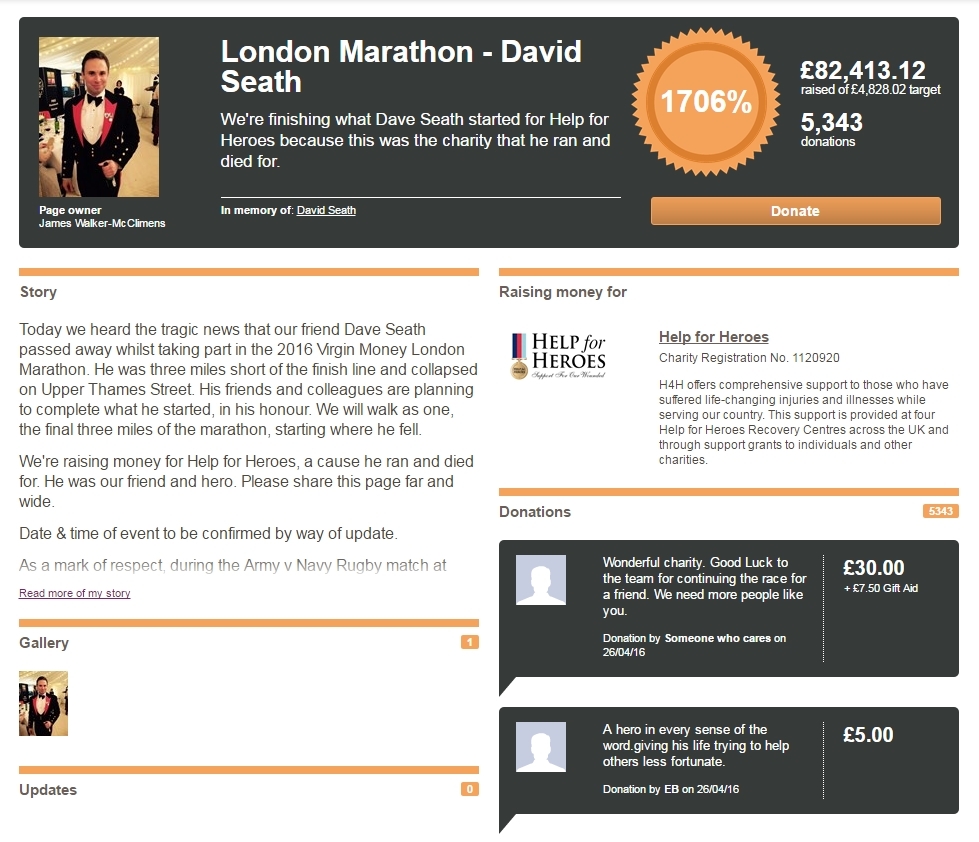 Having served with Capt Seath in the 19th Regiment The Royal Artillery The Highland Gunners in Tidworth, they went on tour together to Afghanistan in 2012, returning at the same time.
"In the Army we don't like unfinished business, it was something he wanted to do – he wanted to do the full marathon, so we are going to complete it for him," he said.
"He was raising money for Help for Heroes so we just want to carry on that theme."
Capt Seath's original JustGiving page has been flooded with donations and tributes. He had aimed to raise £200.
Runners taking part in some parkrun events across the country this Saturday will be invited to run 3.2 miles in Capt Seath's memory.
Cheltenham Parkrun said: "In a show of solidarity, alongside Kingsway parkrun who first suggested it, we would like to invite you to run 3.2 miles in David's memory on Saturday.
"We will operate two start lines, you are welcome to run 3.1 miles as normal but we hope many of you will join us just a little further back to recognise David and all other runners who lost their lives doing the thing we all love."
Capt Seath's mother Libby Seath said: "David has achieved more in 31 years than most people do in 70.
"He lived his life on the edge and to the full. He was running to raise money for Help for Heroes, a cause which was very important to him."
Capt Seath, who was based in Plymouth, completed two masters degrees at the University of Aberdeen before joining the Royal Military Academy Sandhurst in 2009.
He leaves behind his parents, Libby and Pete, brother Gary, aunt Morag and girlfriend Gaby Schoenberger.
London Marathon organisers confirmed Capt Seath had received "immediate medical attention" after his collapse but later died.
Lieutenant Colonel Jon Cresswell, commanding officer of 29 Commando Regiment Royal Artillery, said: "We have lost one of the great characters of our regiment and take strength from the memory of his example and leadership."
The exact cause of death is yet to be established.