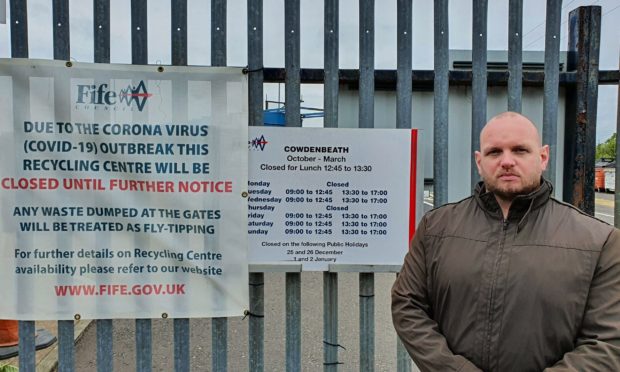 A Fife recycling centre may be set to reopen, three months after others began admitting the public following the coronavirus lockdown.
A £45,000 programme of works has been approved for the Cowdenbeath site so physical distancing measures can be put in place.
Environment spokesman, SNP councillor Ross Vettraino, said funding had been found and he was hopeful that work could begin soon.
The community had campaigned to get the Cowdenbeath centre open again following a rise in fly tipping locally.
More than 1,700 people signed a petition amid fears it would remain shut for good.
Mr Vettraino said: "The current situation is that of the 11 recycling centres, 10 are open, Cowdenbeath is not.
"The works to reorganise the site internally have been approved.
"I understand the finance, the £45,000 necessary to affect these works, has also been found, so we're moving as swiftly as possible towards reopening that last recycling centre."
Fife's recycling centres closed at the start of lockdown. Ten of them began admitting the public in July after introducing an online appointments system to ensure they did not become overcrowded.
The council said physical distancing would not be possible at Cowdenbeath because of its layout and it remained closed.
It also cited road safety, a lack of staff and poor recycling rates.
Conservative councillor Darren Watt said the site was vital and set up the online petition following a number of complaints.
It received more than 1,000 signatures in just two days.
He said he was pleased to hear it would now reopen and hailed the show of people power which helped to make the case.
"I am absolutely delighted to see the light at the end of what felt like a never-ending tunnel," he said.
"The opposition, excuses and obstructions we faced was intense and at one point, I really felt we were fighting a losing battle.
"This is a real testament to thousands of local residents who stood up and let their feelings be heard.
"At the end of the day, they are the ones that matter, they are the ones who live in the area and they are the ones who know what is best for their area.
"Their perseverance and overwhelming support have finally paid off and now it's just a case of when the recycling centre will reopen and not if."