Medics are seeking urgent assurances after frontline doctors were sent what appeared to be PPE aprons made out of repurposed bin bags.
Angry Anstruther GPs were among a number of Scots practices to receive boxes labelled "white tint polythene bags" with their order of personal protective equipment.
It is understood several Fife practices complained and doctors and nurses in the Highlands and Borders were sent similar batches in relabelled boxes.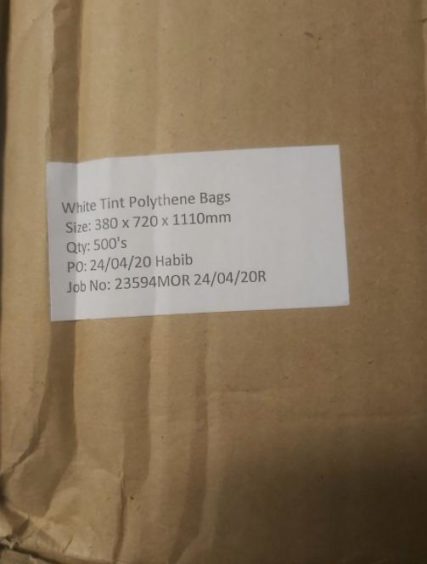 The Scottish Government said the boxes had been "mislabelled" and that all items, including aprons, had passed rigorous quality tests.
A spokeswoman for Anstruther Medical Practice confirmed the situation had been resolved to their satisfaction.
However, many GPs said they felt unappreciated and undervalued after taking delivery of the latest stock.
The #binbag #PPE fiasco. They really did send these to Scottish GPs and expect GPs to use them as PPE Undervalued? https://t.co/H2dHtIiDT5

— Susan Bowie (@docsuzy) November 11, 2020
A BMA Scotland spokesperson said: "Clearly this has caused concern to those who have received this PPE.
"We are urgently bringing this to the attention of the Scottish Government and Chief Medical Officer, to seek the clear assurances required – in line with the commitment made by the Cabinet Secretary to address any concerns our members have over PPE."
Nurses have also expressed concern, with nursing union RCN Scotland describing the situation as unacceptable.
Associate director Norman Provan said: "Staff need to feel safe and deserve to be supplied with personal protective equipment which is fit for purpose to protect them and their patients from infection."
He urged anyone with concerns about PPE to report it to the Scottish Government email hotline.
Whatever the label, these coverings look like bin bags and they do not make GPS feel safe or valued."

Willie Rennie MSP
First Minister Nicola Sturgeon was asked about the issue in the Scottish Parliament and insisted the items were medical grade PPE.
She said the safety of medical staff was taken very seriously and added: "If GPs require a different style they can request it."
Despite this, North East Fife Liberal Democrat MSP Willie Rennie said doctors were "understandably" worried.
"Whatever the label, these coverings look like bin bags and they do not make GPS feel safe or valued," he said.
"Despite what the First Minister says, that GPs can request alternative PPE, GPs in North East Fife have been told that no other coverings are available.
"If the government want to make our frontline staff that are helping fight this virus feel safe and valued, they will take these plastic coverings out of circulation and ensure that GPs get proper PPE in future."
A Scottish Government spokesman said independent testing had shown the aprons provided the required level of protection.
"We are aware of a small number of comments on social media around PPE provided to a doctor, which was mislabelled," he said.
"We can confirm that the items in question are PPE, not bin bags.
"Among the half a billion PPE items supplied to date, this is a rare instance of mislabelling and NSS continue to urgently work with supply partners to remedy these as swiftly as possible.
"We have spoken with NHS National Services Scotland (NSS) who have confirmed that all items, including these 'smock-style' aprons, fully comply with all regulations and have passed rigorous quality assurance."
NSS has sourced and supplied almost half a billion items of PPE during the Covid-19 pandemic.