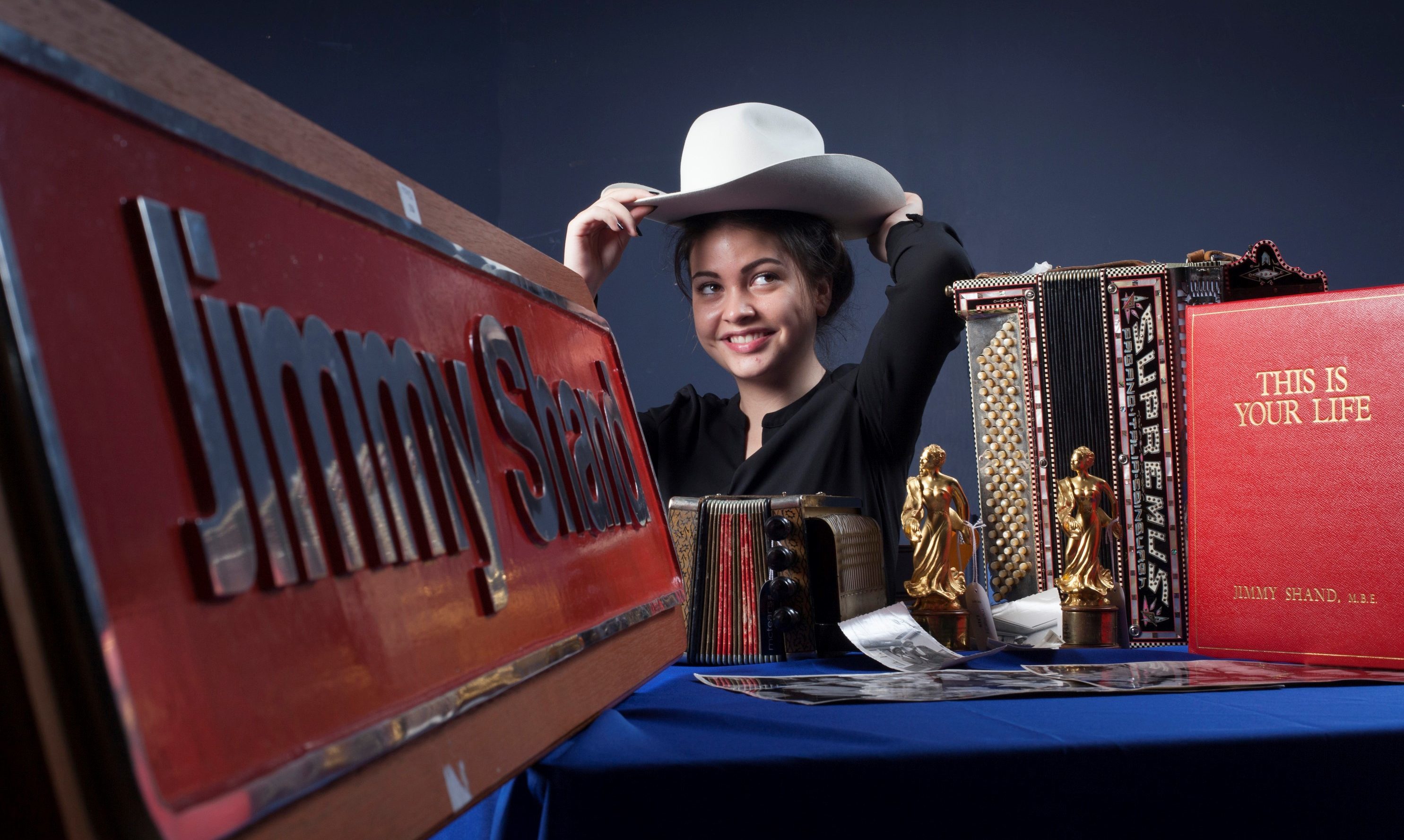 A unique archive of instruments, awards and personal artefacts belonging to one of Fife's most famous sons is expected to attract worldwide interest when it goes under the hammer this week.
The Sir Jimmy Shand collection, which includes over 60 historical items and paints a fascinating picture of the famous accordion player's life, is expected to fetch more than £7,000 at the McTear's Works of Art Sale in Glasgow on Friday September 16.
Among the items going under the hammer are Sir Jimmy's collection of 13 antique melodeon accordions, the big red book and script from the musician's 1978 appearance on This is Your Life, several gold discs celebrating his remarkable recording career, diaries, kilts and sporrans, record label contracts, photographs and even a Canadian Stetson made specially for Sir Jimmy.
Although the accordion collection will undoubtedly be one of the highlights of the auction, the most valuable lot is reserved for an alloy diesel nameplate, engraved with Sir Jimmy's name.
The plate, which featured on locomotive 37188 until 1996, could fetch up to £2,000.
The collection is being sold by the late musician's son Jimmy, who feels the time is right to share some of his father's memories with other fans of Scottish music.
"Although I have kept many very personal items associated with my father, I felt that there are lots of fans out there who would get enjoyment from these important pieces of Scottish traditional music memorabilia," said Jimmy.
"There are clearly some high profile pieces in the collection but there are also a significant number of smaller, affordable items that have fascinating stories attached."
Born in East Wemyss in 1908, Sir Jimmy Shand inherited his father's love of music.
Although he started with a mouth organ and fiddle, it was his genius with the accordion that won him praise from music lovers across the globe.
Over a 60-year career, Sir Jimmy recorded more tunes than The Beatles and Elvis Presley combined and played a host of world leading concert venues, including Carnegie Hall in New York.
Indeed, his signature tune, Bluebell Polka, was a top 20 hit in the UK.
Sir Jimmy moved to Auchtermuchty early in his life and, when he passed away in December 2000 at the age of 92, a bronze statue was erected in the town in his honour.
Commenting on the sale, Tom Reid, from McTear's Auctioneers, said: "Sir Jimmy Shand is one of the most recognisable figures in Scottish traditional music with a reputation that spans the globe.
"The archive tells a wonderful and detailed story of the musical genius through a selection of musical and non-musical items from the earlier part of 20th century right through to the 1990's.
"I have no doubt that anyone with an interest in Scottish music will find something of interest in this marvellous collection."