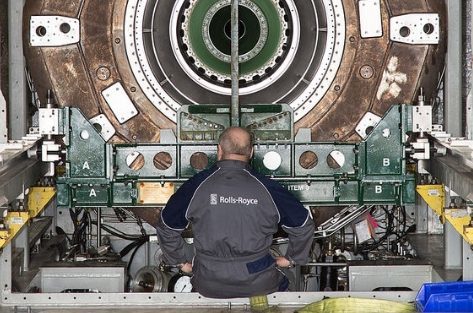 Jobs at Rolls-Royce's base in Fife are under threat after the engineering giant revealed plans to cut 800 roles at its embattled marine business.
The engine-maker said it was too early to say exactly where the job cuts would fall, although it is expected that all parts of the business will be affected.
The marine business employs 4,800 people globally with around 400 of those staff based in the UK at facilities in Bristol, the Midlands and at Dunfermline.
The Fife operation employs around staff and features a large workshop facility capable of carrying out planned and emergency maintenance and overhaul of a wide variety of Rolls-Royce marine equipment.
The unit provides significant support to the North Sea oil and gas sector and is also involved in emerging renewable technologies.
Rolls-Royce said its decision to "accelerate the transformation" of its marine business had come as a result of continuing weakness in the maritime market.
The new measures – which will cost £20 million to implement – will see 800 jobs go from across the global workforce and a slimming down of the senior management team.
The changes follow previous job reduction in May and October last year in which a total of 1,000 jobs were axed.
Mikael Makinen, Rolls-Royce, president – Marine, said: "The ongoing market weakness that has followed the dramatic fall in the price of oil continues to have an adverse impact upon our order book and profitability.
"We have made significant progress in transforming Marine into a far more agile and simplified business than we were and we have to take further steps to address our cost base.
"Reducing our workforce is never an easy decision, but we have no option but to take further action beyond the changes we have made to date.
"This remains a fundamentally strong business, but we need to overcome the immediate challenges and focus our investments on the technologies that will shape our future growth."