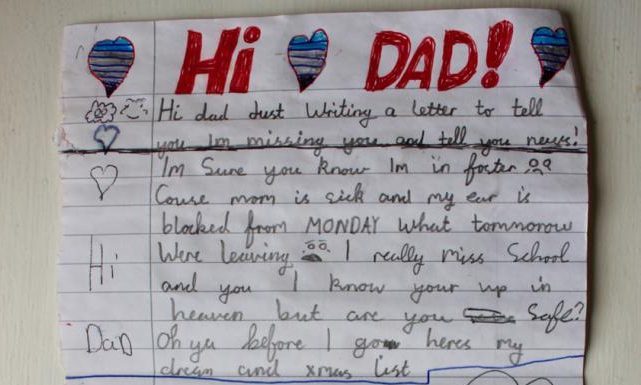 A heart-rending letter from a child to his dead dad found tied to a balloon in Fife has prompted a flood of donations from the public.
Two charities will benefit from the generosity of those moved by the Christmas wish list after a photograph of it went viral on social media last week.
The rolled-up letter was found in a field near Dunfermline by photographer Stuart McColl and sparked a mission to trace its author.
The youngster, thought to be a boy, tells how much he misses his father and reveals he is in foster care as his mum is ill.
While the child said he hoped for football gear, including a Real Madrid kit, his dream was to find a note under his pillow from his dad.
A community drive via online fundraising site Crowdfunder has already raised £500 to buy the items on the mystery boy's list which, as well as the strip includes boots, a rebounder net, a Premier League ball and a Rubik's Cube.
Organisers of the page, entitled The Christmas List, have now extended their target to £1,000 and will donate half to Fosterline, a charity offering confidential advice on issues of concern to foster carers.
Mr McColl, who found the balloon, has set up his own fundraising page on Just Giving in a bid to raise £1,500 for Child Bereavement UK to help amass cash to help grieving youngsters.
He said he had decided the best way he could help was to donate to a cause caring for children in the same situation as the person who wrote the letter.
"We may never locate this child and perhaps whoever cares for them would like to remain private, which I completely understand," he said.
"It's such a personal letter and it's important that this child is not named publicly to protect his or her identity."
He added: "If I ever do find this child, I would love to do something special for them.
"In the meantime, I would like to help raise as much money as possible to help children who are going through a tough time and deserve something good to happen, especially at this time of year."
The emotional letter, found on Monday, reads: "Hi dad, just writing you a letter to tell you I'm missing you and tell you news!
"I'm sure you know I'm in foster care cause mom is sick and my ear is blocked from Monday."
It continues: "I really miss school and you. I know you are up in Heaven but are you safe?
"Oh ya before I go here's my dream and Xmas list.
"My dream is for you my daddy to put a note under my pillow that you wrote."