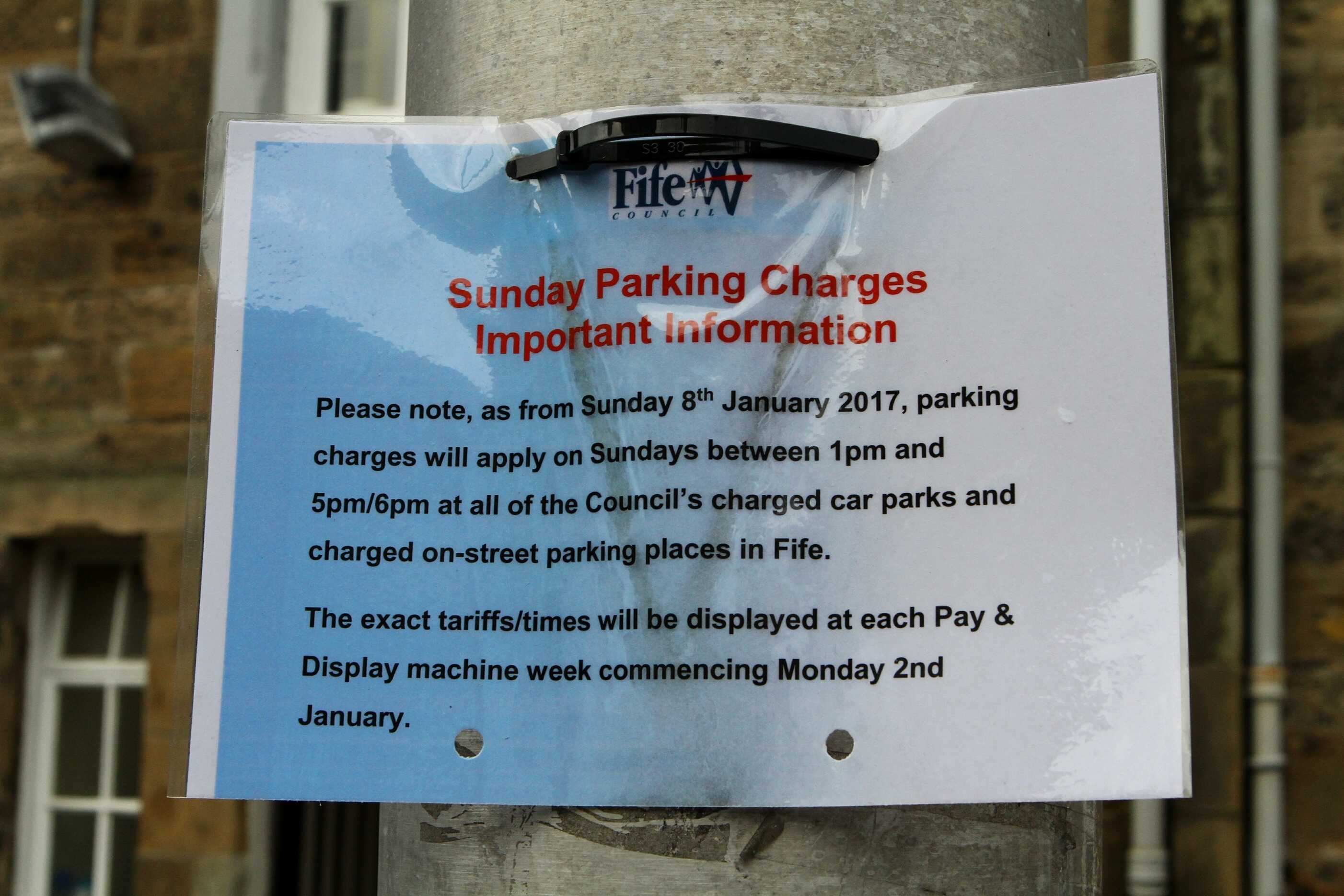 Fears have been raised that the introduction of parking charges on Sundays will only serve to drive footfall away from Fife's town centres.
The concerns have been aired just as the new charging regime kicked in across the region yesterday (Sunday), with drivers parking in 26 different metered on-street and off-street areas throughout Fife now being asked to fork out for the privilege.
The controversial move was rubber-stamped back in September, although councillors agreed to a concession whereby charging would only start at 1pm on Sundays following a number of objections.
Much of the opposition came from churches who felt the imposition of fees might have an adverse effect on their congregations, and the policy was therefore tailored to suit.
Despite that though, town centre chiefs and local businesses insist the decision will do nothing to increase the number of visitors – and might even deter people from going shopping on a Sunday altogether.
Bill Harvey, Kirkcaldy4All BID manager, said he was particularly "disappointed" that Fife Council felt the need to have charges on a Sunday.
"It's a successful trading day in the town centre and I'm sure it will discourage some people from coming in," he stressed.
"I understand the need to raise revenue when the council needs to make cuts but I wonder if an economic impact assessment has been carried out. Just now we have to wait and see what the results will be.
"There's a big drive here to utilise the town centre car parks, to bring people into the multi-storey car parks and we've been working on a trial to try and reduce the costs for people.
"But I think Sunday charging might offset it a wee bit.
"A lot of shops don't open until midday, some are at 10am, some at 11am, so I don't think this is going to have a positive effect.
"It will be interesting to see how much money is made as opposed to the money that is lost."
His counterpart in St Andrews, Rhonda McCrimmon, seemed to echo those concerns and hopes the new charging regime will not affect visitor numbers.
"BID St Andrews recognises the difficulties businesses face in attracting customers, particularly at this time of the year and regret that the introduction of Sunday parking charges may provide another deterrent to visitors," she said.
"Although we appreciate that the charges are delayed until 1pm following representations from the town, we will be interested to see the effect that Sunday charging has on a traditionally busy day in St Andrews."
Some shoppers have complained that they felt there has not been enough publicity about the charging change, amid worries that some might in for a shock yesterday on the first day of charging.
However, Ms McCrimmon did go on to say: "I don't feel the parking was introduced under the radar – there seems to have been ample coverage and consultation, with any interested parties given time to respond to the proposed addition."
Sunday charging deemed a necessary step by Fife Council
Fife Council – which is facing an estimated £32 million budget shortfall this year – has defended the introduction of Sunday parking charges, bringing the region into line with many other areas.
The proposal affects all metered on-street and off-street parking places in Fife, meaning no individual town has been singled out, while officers recommending approval of the plan back in September argued that Sunday is no longer a special case – with charging ensuring a turnover of available space as is the case throughout the week.
It was also suggested that the potential additional revenue income generated from the measure will help to offset the cost of parking attendants who were already deployed on Sundays to ensure safe access to council car parks and on-street parking locations.
"Members of Fife Council approved this policy as part of budget decisions last February," explained Councillor John Wincott, the council's spokesperson for environment and transportation.
"We own 172 car parks and we have to pay non-domestic rates on those – that's a bill of over £1million a year before we consider any maintenance or operating costs – parking charges help us cover these costs.
"We were one of the few councils that hadn't already introduced parking charges on Sundays and, overall, charges in Fife compare very favourably with neighbouring areas.
"In town centres like Dunfermline and Kirkcaldy, private car park operators at shopping centres already charge all day on Sundays.
"With Sunday trading now commonplace, demand for parking is generally like any other day of the week.
"We were sensitive to public views regarding charging on a Sunday morning when many people go to church and delayed the charging period until 1pm."
The introduction of Sunday charging is expected to net Fife Council around £100,000 per year, although the figure would have been double that had the local authority opted to introduce Sunday charges all day.
Dozens of objections fail to stop Sunday charging
A total of 76 formal objections were lodged with Fife Council in an attempt to block the plan, with more than half of those from churches, church groups or mentioning churches.
Sixty-six of those came from St Andrews, although interestingly no businesses in either Dunfermline or Kirkcaldy objected – it was only church representatives.
A third of all the objections highlighted fears over the impact on business or tourism, while 10% stated that the aim was merely to generate income and just 3% objected on the grounds that it would have a negative effect on residents and residential areas.
Various issues were raised by the objectors, ranging from a perceived lack of consultation to worries that the move would send more people to out-of-town retail parks rather than into town centres.
Most of the responses highlighted churches, noting that the charges would add a significant cost to Sunday worshippers, could pose problems for elderly parishioners who may use free parking elsewhere and have to walk further to church, and would in turn lead to a reduction in numbers attending worship every week.
However, the council's decision to introduce charging from 1pm aimed to alleviate those particular concerns.
Despite that though, other objections pointed out that there tends to be more reliance on cars and therefore a need for parking due to more limited bus services on Sundays.
And one person even suggested that it might affect her family life, as relatives tended to visit on a Sunday purely because parking was free and they didn't have to worry about timescales.