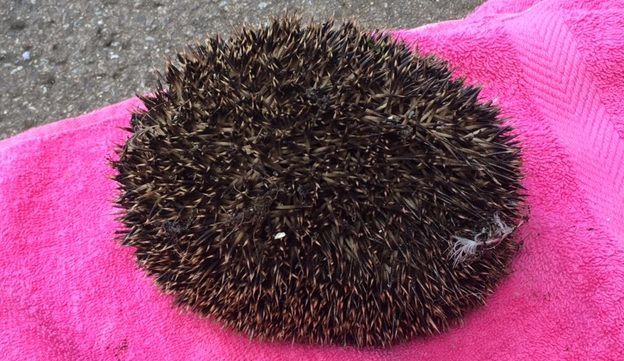 Fifers are helping solve a prickly problem for a local animal sanctuary.
Animal lovers are coming to the aid of a Rosyth woman in a bid to save her hedgehog hospital.
Nadia Al-Dujaili was forced to move her prickly pals to Scotland's leading animal welfare charity, the Scottish SPCA, after the shed she uses for their rehabilitation suffered water damage.
Now she is being backed by the community, including local primary school pupils and local MP Douglas Chapman, in her quest for a new home for the hedgehogs.
Nadia, of Middlebank Street, launched an online Crowdfunder to raise cash for a shed and groundwork in her back garden.
She said: "The hedgehogs' hospital shed is badly needing replaced.
"The roof leaks and due to local flooding problems, water comes in the floor when it rains for long periods.
"I also took a bad turn health-wise a couple months ago, and due to both issues I was forced into making the decision to send the hedgehogs to the SSPCA to complete their rehabilitation."
Nadia contacted the SNP MP to ask for help following his visit there in the summer.
The Dunfermline and West Fife MP said: "I was impressed with the level of care Nadia provides for the hedgehogs in nursing them back to health.
"My office has recently contacted a range of businesses to ask if they can help out.
"If there are any local businesses in west Fife who can perhaps supply a suitable shed, that would be a wonderful gesture.
"In the meantime, I'll be encouraging as many people as possible to make a donation and help re-establish the Forth Hedgehog Hospital."
Nadia added: "Park Road Primary has been so supportive in raising money already.
"A lot of work is needed, the shed is going to have to be raised off the ground a good deal to cope with the flooding, so I appreciate all the donations made so far."
To make a donation search for Forth hedgehogs new hospital at www.crowdfunder.co.uk.