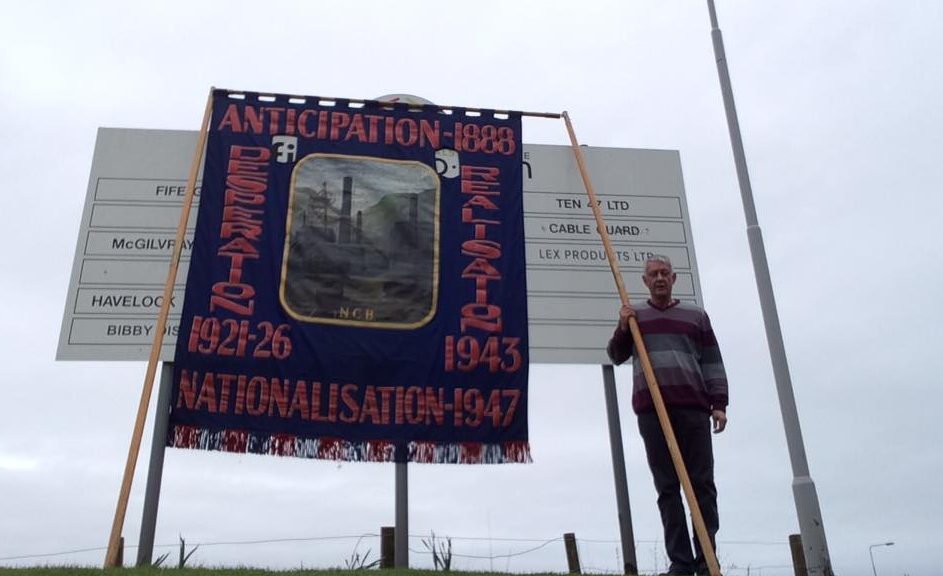 A former miner staged a one man picket outside a closed Fife pit amid mounting calls for an investigation into the policing of the 1980s strike.
Tom Adams erected his old union banner at the entrance to the defunct Frances Colliery in Dysart on Saturday to mark the 33rd anniversary of the bitter dispute.
The West Wemyss man said it was important to revive public awareness of the 1984/85 strike as the campaign for a public inquiry into police tactics grows.
Trade unionists and supporters are continuing to call for action, despite the fact the UK Government has ruled out an inquiry into events at Orgreave in South Yorkshire.
Scottish justice minister Michael Matheson is also under pressure from protesters demanding he "shine the light of truth" on the policing of picket lines north of the border.
Now a Labour councillor in Fife, Mr Adams worked at Frances at the time of the strike and has claimed miners were subjected to "organised state thuggery".
"Everyone recalls what went on at Orgreave but the tactics by police were first tried at Hunterston and Ravenscraig with many Scottish miners injured by charging horses and police brutality then arrested on trumped up charges," he said.
Mr Adams held a lone protest outside Frances on the anniversary of the first day of the dispute every year for 30 years before deciding he had had enough.
The calls for an inquiry prompted him to revive the tradition this year.
"On Saturday morning I saw something on the television about the anniversary and decided to go along," he said.
"I got a few honks from cars driving past and somebody stopped to speak to me.
"We need to keep the pressure on for a public inquiry and to do that the public needs to be aware of it."
He added: "The strike might have been more than 30 years ago but for us it seems like yesterday.
"We'll never forget it, nor will we forgive it."
Mr Adams was speaking as campaigners staged a noisy demonstration outside the Home Office to step up calls into the policing of picketing.
The so-called Battle of Orgreave saw police deploy horseback charges and baton-wielding squads as 6,000 officers from around the country attempted to stop striking miners from blocking deliveries at the Yorkshire pit.
Some 95 people were charged with riot and violent disorder but cases collapsed and South Yorkshire Police later had to pay compensation.